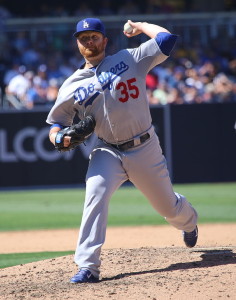 I guess we're just gonna have to get used to this whole 'injured Dodger starting pitcher thing' aren't we? The Dodgers have an issue, starting pitching is the concern, it's been a concern since what feels like 1988. and despite the handful of #3 starters that the Dodgers brought to camp, the rotation lines up like this on opening day:
You'll note that Brett Anderson, who pitched more than he ever did last season is absent from that list because of a back injury that he re-injured this week. He's out 3-5 months, it's not a given that he'll pitch this season even if he does rehab considering his history with other injuries. The Dodgers had to give him the qualifying offer because of how overvalued pitching has become on the open market (hi, Ian Kennedy), and Anderson took it, the deal failed before the season even started, it happens.
And as far as Hyun-Jin Ryu goes… welp
Hyun-Jin Ryu won't throw a bullpen today. He is still shut down. No set date for his return to throwing program, Dave Roberts said.

— Andy McCullough (@McCulloughTimes) March 5, 2016
This comes about a week after McCullough reported that Ryu wasn't going to pitch until at least mid-May as opposed to the early April timeline he was talking about in the Winter. I feel it important to bring up this Jay Jaffe article that was written 4 years ago which is a super informative article regarding shoulder injuries in baseball.
Six of the remaining 18 (Matt Clement, Dirk Hayhurst, Eric Hurley, Prior, Brandon Webb, and Paul Wilson) pitched in the minors but were unable to pitch well enough to return to the majors; Hayhurst, Hurley, Prior, and Webb were active last year, and may yet write happier endings to their tales of woe. Nineteen others pitched less than 50 major-league innings following surgery, a count that includes the still-active Jose Ascanio, Travis Blackley, Boof Bonser, Brandon Lyon, Dustin McGowan, Troy Patton, and Clayton Richard; those 19 have totaled exactly 0.0 WARP in their post-surgical careers. So that's 58 percent with little to no return thus far. Fifty-seven percent of our "notable" list, mind you; doubtless there are dozens (hundreds?) of minor leaguers who aren't included here
What more can you say at this point? We're figuring out that shoulder injuries are arguably the most debilitating injury in sports as far as an athlete's future projection is concerned, maybe on comparable with microfracture surgeries in basketball, at least as far as impacted performance, only labrum injuries have the not-insignificant likelihood that the pitcher never pitches again.
There's a situation where that works out fine, nobody has to worry about Clayton Kershaw, Scott Kazmir has been good for 6.4 wins above replacement the past two seasons, Alex Wood had an injury to excuse his poor performance down the stretch last season, giving hope that he can return to what he was early in his Braves career. Beyond that, ¯_(ツ)_/¯ but in this world where Kazmir continues his strong performance as incentive to opt out and where Alex Wood heals properly and is a solid #3 starter, Maeda and Bolsinger don't need to be world beaters.
But this has been the defense since Hyun-Jin Ryu's arm was shredded, "the back end starters don't have to perform like top options" and in this situation, the back end starters are Maeda who's injury risk is reflected in his contract, and Bolsinger who… is a nice guy, a high end Stephen Fife? I mean he can even be effective when he does start in short bursts, but those 21 starts last season exposed him as the year wore on.
From my viewpoint, it appears like we underestimated the magnitude of Ryu's injury, which is fine considering that the Dodgers haven't had such an important rotation member go down with this kind of injury, it's still early but Ryu's hopes for a productive 2016 diminish every day that he's not throwing. I don't blame Brett Anderson for taking the qualifying offer, I don't blame the team for giving him the qualifying offer.
And to be fair, the list of teams that could survive losing a #3 starter a few days into Spring Training is short, at least the Dodgers should still be able to contend with what they have. Not everything has to be a front office love/hate piece even if the introduction to Farhan Zaidi and Andrew Friedman has polarized whole sites surrounding the Dodgers, sometimes things don't work out, but for the first time in a long time, the Dodgers aren't runaway favorites in their division and Anderson's injury has exposed just how debilitating Hyun-Jin Ryu's injury is.
For the first time in a long time it appears that the Dodgers are headed for a trade deadline in which they will need to make a move to improve their chances at winning the division, not just improving their chances at a deep postseason run. With the Anderson injury, the floor has fallen for the starting rotation, with the Ryu injury, the ceiling has lowered also, and at this point, it's a real debate as to what's more of a sure thing, the offense or the rotation, and that's a scary conversation to be having on March 5th.