The trade deadline passed without Yasiel Puig going anywhere. That was a bit of a surprise.  The Dodgers let it be known to parts near and far that he was on the trading block.
There was no "Yasiel Puig is a valuable part of the Dodgers..blah, blah. We have no intention of trading him…blah", smoke screen like they threw up while they were shopping Dee Gordon. Nope, the Dodgers made it so every team with access to a smart phone knew Puig was being marketed. You and I knew it, and Senor Puig definitely knew it as well.
As a Yasiel Puig fan, I came into this season willing to give him one more chance to bring forth all of that baseball talent that I know is brewing within him. I also told myself (and anyone else who would listen to my baseball rantings) that my cut off point would be this trade deadline. My patience with the Grand Puig Experiment is exhausted as well.
While it's true that Puig had bounced back pretty well from his recent stint on the disabled list, the key words in that statement are "his recent stint on the disabled list".
Puig's hamstrings have always had the reliability of dry rubber bands, snapping and tearing on an almost annual basis.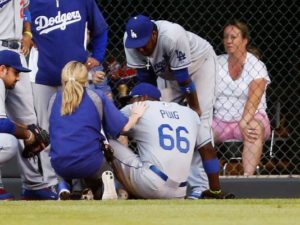 His hamstring betrayed him yet again this season, and fairly quickly after coming off the DL, he again came up lame while running down to first. He missed a few starts, and this weekend was his first time back on the basepaths since that last scare.
Puig may have been born with all the talent in the world, but the universe is cruel, because he was also given unreliable muscles inside of those tree trunk legs. Unfortunately, I think they are going to snap and rip for the rest of his career.
So I can definitely see why the Dodgers tried to trade him, and I fully agree with that decision. His name was popping up in rumors about a trade with the White Sox, but that didn't pan out. No one really knows why not.
Which brings me to why this demotion of Puig to OKC is the right move. Puig's hamstrings were not his only problem.
While the Wild Horse is exciting to watch when he's stretching a single into a triple, he hasn't learned (YET!) the fundamentals of baserunning. While his arm has produced some of the most incredible put outs that I've ever seen, he's also missed the cut off man on routine plays more times than I can remember.
It's said you've got to have a lot of little boy in you to play this game. Trouble is, Puig has shown his immature side a few times too many. I'm not privy to things that go on in the clubhouse or on team buses, but I've seen flashes of immaturity during games. I'm pretty sure the reputation has been earned to a degree.
Management made it known they wanted to part ways with Puig. So why bring the guy along when he's got maturity issues and there are plenty of other Dodgers (including a new one) who don't make the same fundamental baseball mistakes over and over?
Folks on Twitter have been comparing slash lines of Puig with Scott Van Slyke, Kike Enrique Hernandez, and Andrew Toles and insisting Puig is the better player. I know Puig swings a bigger bat, and makes more spectacular plays defensively, but he doesn't do so on a regular basis. And every time he begins to do so regularly – the hamstring pops.
Give me an Andrew Toles. Give me a player who consistently hits doubles, and steals bases without getting hurt every few weeks.
Yasiel Puig will be expected to work on the fundamentals – and his maturity – while he's at OKC. Who knows, he may find that consistency he's looking for down there. While we're fantasizing, let's imagine Dodgers' management will see those changes and welcome him back to the big club with open arms.
Or other teams will see his trade value rise and risk an investment in the mercurial Puig.
Some are saying Puig's got nothing to learn in the minors. I'm taking a different track and saying he's got plenty to learn down there. Since there's plenty that hasn't sunk in at The Show level yet.