Opposing fans in stadiums around the country love to "Boo" Yasiel Puig when he comes up to bat. There are other Dodgers who do more to win games on the road, more often than Puig, but for some reason, fans in those other cities just love to aim vocal missiles at the Wild Horse. I suppose we can now add Cleveland to that list.
In the second inning of yesterday's game against the Indians, Puig blasted a home run, and on his trot back to the Dodgers' dugout, he let loose with two middle fingers aimed at some fans behind home plate. After the game Puig said he was being heckled by those fans before he batted, and it continued after his home run. We don't know exactly what was said, as Puig claimed to have already forgotten the words that set him off. He did have this to say:
"I reacted that way. I stooped to their level." – Yasiel Puig, through an interpreter
Puig is now a double-fingered member of an exclusive club of Dodgers that have lost their cool and flipped off the crowd. At least Yasiel directed his animosity toward fans of the other team.
Back in 2011, during batting practice at Dodger Stadium,  Andre Ethier made headlines when he did this: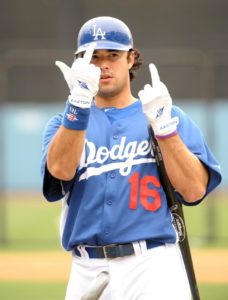 Ethier later explained he was directing the birds at a photographer who was taking too many pictures of him during batting practice. Other witnesses said Ethier was also dropping verbal F-bombs and it all seemed unprovoked.
Further back, in 1991, Dodgers pitcher Kevin Gross also used his hands to express his displeasure when Dodger fans booed him for failing to run out a routine grounder. In his defense, it was the fifth inning of a game he was leading 4-1, and he was possibly trying to conserve his energy, as in those days pitchers were actually encouraged to pitch beyond five innings.
There aren't any photos of Gross actually flipping the bird, and newspapers were a bit more quaint back then. The L.A. Times referred to Gross' actions as waving "angrily" at the fans. He even upped the ante by flinging his batting helmet into the air for some added punch.
Puig, Ethier and Gross are known for being open with their emotions, and they probably won't be the last members of this club nobody really wants to belong to. On the bright side, at least the Dodgers don't have a mascot in their club.