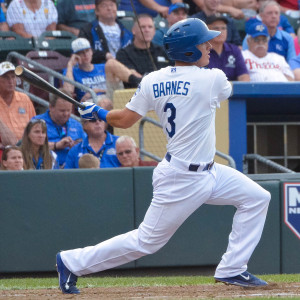 Depth is primed to be an even bigger story this season than last season, basically the entire crop of starting positions players are coming in with either health questions or production questions. This is why mid-December the Dodgers had so many questions about Enrique Hernandez, we understand that he's versatile enough to cover 2b/SS/3b and all of the OF positions, but he can't be running from one position to another mid game.
So despite what you think about Austin Barnes, whether that's a tweener who might be a fun role player, or whether he has the skills to become a top 5 catcher with playing time, he is going to be a vital cog at the big league level.
Barnes of course, was a throw-in with the Marlins in the Andrew Heaney trade that got the Dodgers Enrique Hernandez, Howie Kendrick, and Chris Hatcher.
This post was spawned out of fangraph's prospect list which listed Barnes as an above average regular right now with his future being a plus catcher, his ceiling basically being a top 3 catcher. I initially thought this was ridiculous, while his minor league hitting resume speaks for itself, (.300 average paired with a .828 OPS), he's always been around the league average age for his level the pitchers he was facing were generally younger than him and developing, a minor league hitter who went to Arizona State should crush minor league pitching!
Here's Farnsworth on the catcher:
I'm not saying, nor have I ever said he's a 3.5-4 win player right now. 55/60/70 is me communicating I think he's a ~2.5 win player right now, with a good chance at being a ~3 win player and a slim but possible chance of being ~4.5-5 win player.
So lets start off with "scouting is hard", cause it really really really really is. And that's a really nice way of looking at Barnes, Farnsworth -who is absolutely the high man in the prospecting world on Barnes- might totally nail his evaluation on him! However I do want to point out that Kiley McDaniel who is now the assistant Director of Baseball Operations of the Atlanta Braves had him 9th in the Dodger organization last season, there was a pretty significant disparity between his 2015 valuation and his 2016 valuation:
Farnsworth's grade:Â 50+ hit tool 40 power tool 45 speed tool 50 field tool 50 throw tool 45 future value
Kiley's grade:Â 60 hit tool 45 power tool 45 run tool 60 field tool 50 throw tool 60 future value
So… what changed? Barnes' numbers in Oklahoma City were .315/.389/.479 with an almost even K-BB ratio. Is an .869 OPS in the PCL enough to bump up the hit hit tool 7.5 points and the power 5 points? I'd say not, but you'll see that the 10 point bump in his field tool is significant, and likely to do with framing.
This is from his 2015 evaluation
with one exec telling me he's top 25-30 in the minor leagues, so the plan is to develop him as a potential everyday catcher but know that he can also be a utility guy if needed.
This is in his 2016 evaluation
Going by BP'€™s catching defense stats, Barnes was second only to fellow Dodger Yasmani Grandal in all of professional baseball last year with over 20 runs added via his receiving
20 runs is a lot, translated to offense is basically like going from Brandon Phillips to Jose Abreu, Whether those figures are believable that a catcher can add that much value by receiving is up for debate, but the President of Baseball Operations is known to value framing more than most teams.
Also we should point that catchers with plus defense and a potentially average hit tool just don't exist catchers who fit this description are Buster Posey, Francisco Cervelli, Russell Martin, Brian McCann, Yasmani Grandal and Miguel Montero.
As far as the valuation numbers go, I don't buy that he raised his hit tool a grade and a half, nor his power tool a grade because he hit well on the moon, and making the jump from a top 25 framer in the minor league to the best framer not named Yasmani Grandal in all of baseball is one that I'm not comfortable making, however his defensive prowess is undeniable. A 55 fielding tool isn't out of the question considering he's obviously one of the better framers in the minor leagues, I don't think an average hit tool is out of the question either because of his control of the strike zone.
And also the catching situation is a mess around the league, my friend Stacie Wheeler over at Dodgers Digest pointed out that the catching depth in division is a dumpster fire, sure the Giants have Buster Posey, but after that who in the division would take their starting catcher over Austin Barnes?
The Padres, maybe?
And Barnes is going to get playing time, I mean if we learned anything from 2015 is that Yasmani Grandal is just not a good bet to make it through the season healthy and AJ Ellis went through a stretch where we were questioning his ability to play baseball at a major league level.
So Barnes is going to get his chances, I don't buy the potentially plus catcher, but he doesn't have to be to be valuable to this team.