Prospect Ranking season has almost run it's course and that means that rankings are generally set (with the exception of Dodgers Digest and True Blue LA) for the upcoming season so most Dodger fans know who's worth paying attention to this upcoming minor league season.
The system has seen some impressive gains since new ownership took over as 9 prospects got national recognition in one way or another from the 4 major publications: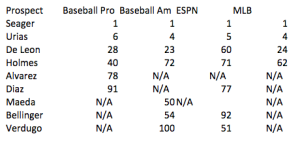 Having 9 guys get recognized says something about the strength of the system, and *hopefully* these players will not only progress but can be viable pieces in July when the Dodgers need help. I've decided to write about their upcoming season to see what fans should want to see from these players.
Average ranking: 1
The Seager hype has reached new levels. Cal Ripken said on Friday that he expects Corey to contend for the 2016 MVP which would be an incredible feat in his age 21 season. Last season he skyrocketed up 2 levels, hitting .375/.407/.675 in the Southern League and adjusted nicely and he hit .278/.332/.451 after a slow start in his first taste of AAA. We know what happened in September also, he absolutely tore up big league pitching to the tune of a .337/.425/.561 line, displacing the aging Jimmy Rollins. The expectations are enormous, and the pessimism regarding prospects never wavers no matter the star the #1 prospect in baseball has, an infielder in the Dodger organization will be compared to Andy LaRoche until he's not. But #1 overall prospects that are close to the majors almost always become good major leaguers. A first division regular would be a huge step up from what the Dodgers lacked at the SS position last year, and the upside is so much better. At the end of the day it's about upgrades, and Corey Seager, even baby faced Seager is a near lock to perform better than Jimmy Rollins, and if he does that his season would be a success.
Average ranking: 4.75
Here is where the takes get hot. We have been talking about Julio Urias since 2013 when he was a 16 year old who burst onto the professional scene, pitching 54.1 innings, striking out 67 batters and limiting Low-A hitters to a 2.48 ERA. Last season he made big strides in his 13 starts in AA, but a midseason eye surgery that limited his market when he first signed kept him for 2 months. He struggled mightily against AAA pitching when he was called up on the last day of August, he gave up 9 earned runs in 4.1 innings pitched, walking 6 in his 2 games started. He wasn't as sharp coming back from the surgery and I can certainly understand considering the eye surgery was disruptive to an otherwise positive season.
Not that the timing of the surgery was excusable or an excuse for potentially poor planning regarding his medical situation, but that's another post for another time. Julio Urias is ready to get big league hitters out now, his stuff is that good, while I suspect his minor league numbers are inflated by the simple fact that he has a real changeup, the numbers are very good. He might make his debut before he turns 20 years old and the comparisons are special for a player of his caliber.
But as far as expectations go? 2016 is going to be a pivotal year in terms of his development, he's progressed as far as a teenage pitcher can progress without actually proving he can start at a major league level. This is to say that Urias has been (rightly) babied his entire professional career. Two regimes have brought him along slowly, and it's enlightening to see that the way Colletti treated pitching prospects is at the opposite end of how Friedman treated pitching prospects as far as aggressiveness with regards to development, but the similarity with Urias has been to protect his arm.
Again, this is the correct move with him, but bringing him along slowly means that Urias is probably not going to be able to throw a major league starters workload this season, and probably not the season after that. For comparison, Blake Snell tossed 134 innings pitched in the upper minors in 2015, Steven Matz (despite missing significant time with a torn muscle) threw 155.2 innings all of last season, which is only 66.9 innings fewer than Urias' entire minor league career. Lucas Giolito threw 117.0 innings all throughout last season while that wasn't much more than Urias' 2015 total, crossing the 100 innings pitched milestone is still important for a young prospect. Heck Urias has gotten more than his fair share of Felix Hernandez comparisons but Hernandez's arm was big league ready at age 19. King Felix threw 69 innings as a 17 year old, 149.1 innings as an 18 year old, and 172 innings as a 19 year old. The situations are very different.
And lets be fair, Urias was on his way to cracking the 100 innings pitched mark, but that's why the eye surgery was so debilitating to his development this past season, we have no idea how his arm will hold up after hitting that mark. Elite talents can get over these issues because, well, they're elite talents but instead of hoping that Urias will be the Felix Hernandez answer for 2016 is ignoring Julio's relative inability to throw lots of innings.
Average ranking: 33.75
De Leon is probably the most important pitching asset the Dodgers have this year save for Kenta Maeda. Armed with a deadly changeup, he's reinvented himself from the college pitcher he was and has become a top 100 prospect. in 7 starts at Rancho, he posted a 7.25 strikeout to walk ratio, posting a 1.67 ERA. He was just mauling HI-A hitting, as one might expect from a college pitcher with an above average changeup,  he went to AA and held his own as a pitcher slightly younger than the league average. He posted a 3.64 ERA with a 3.62 K/BB ratio in his 16 starts. You'll note that ESPN's rank is the outlier for De Leon, it's more than 30 spots lower than the next outlet, and the reasons generally make sense. His command did suffer when he faced advanced competition, and i'm struggling to see if that's because he tired at the end (John Sickels wrote him up and said that his velocity took a dip towards the end of the season so maybe that's one explanation). But a drop in command is a drop in command and it's a bit concerning to say the least, his BB/9 rose to 3.4 per 9 and his home run allowed per 9 rose to 1.3 per 9 despite being in a more forgiving environment. The good news was that it was his first taste against advanced competition, so next year he'll get the chance to prove that his crazy K/BB numbers in the low minors were legit. Anyways, he's the most likely pitcher in the minor leagues to be a long term solution as soon as 2016 so keep an eye out for a midseason promotion to the big league club for him.
Average ranking: 61.25
His average ranking means that he progressed overall from his average 2015 rankings, a good sign for a prospect as young as him. He proved that he could get Low-A hitters out despite being 3 years younger than the league average, a 3.14 ERA is no joke even if it's a pitchers haven, he struck out 10.2 batters per 9 innings and this alone has him as a premier arm in one of the top systems in baseball. He also threw 103.1 innings as a 19 year old, a pretty impressive mark for a Low-A pitcher, meaning that he could become a workhorse pretty soon. The only knock on him is the walks allowed. Last season he issued 4.7 walks per 9 innings, entirely too many men reach base against him, his home run figure was okay (0.5 per 9 allowed) but the walks just killed him. This isn't unexpected from a young pitching prospect, someone might point to Clayton Kershaw as a comp for bad control numbers, but Kershaw is definitely more of the outlier.
The good news for Holmes is that everything else about him is so good that if he lowers the walks given up to somewhere in the mid 3's next season, he'll skyrocket up the prospect charts. That seems to be where Baseball Prospectus is on him. The potential that he doesn't start in the big leagues is higher than one would like it to be with Holmes, but he's answered almost everything else about his game.
Every prospect beyond this point is incomplete because there isn't a unanimous top 100 guy past Seager, Urias, De Leon, and Holmes.
Yadier Alvarez
Alvarez is such an enigma, he signed for 16 million dollars out of Cuba this past Summer and blew up during one of Yoan Moncada's workouts last season. He never played in Cuba's highest league, when he did play baseball in Cuba, but he started throwing 97 in a workout with a plus slider and a "surprisingly good" changeup. The best complement for Alvarez came via Kiley McDaniel who actually works for the Braves now when he said Alvarez would rank 57th in his top prospect rankings in a fangraphs series last season. Alvarez has done nothing to discount his prospect star so his baseball prospectus ranking seems fair, though he's played so little that I understand why he wasn't ranked at all.
Expectations for him should be a successful start to his pro-career. I'm excited to see how he does with professional instruction.
Yusniel Diaz
Diaz is the Cuban prospect that would have been comparable to a 1st round talent in the domestic draft. He looks to be an exciting member of the organization, and Ben Badler had this to say about him
Diaz was a rookie with Industriales this past 2014-15 season in Serie Nacional. Diaz ranked sixth in the league in batting average, hitting .348/.447/.440 in 65 games with 36 walks, 33 strikeouts and seven stolen bases in 15 attempts. He almost certainly would have been the league's rookie of the year had he not left the country soon after the season ended
Similarly with Alvarez, hoping he has a successful first season in the states will establish him as a top 100 prospect. It was curious to see him make the top 101 list for Baseball Prospectus but be omitted from the Baseball America list, but it's difficult to fault without seeing him play domestically yet.
Kenta Maeda
Baseball America is the only outlet that ranked Maeda, but they're consistent in ranking guys like that (they ranked Tanaka and Olivera the past 2 winters). Maeda has had a long offseason, and we all know about the health issues with him and the incentive laden contract, but he had a very successful and durable Japanese career posting a 2.39 ERA in 1509.2 innings there. Maeda might not be the most exciting addition to the rotation, however Hisashi Iwakuma and Hyun-Jin Ryu both shattered expectations coming over from the Japanese League and the Korean League, respectively. These two are great examples because they were thought of as marginal talents coming over to the states, Maeda, like Iwakuma and Ryu has impeccable command, and that alone is good enough to get guys out in the majors.
This isn't to say that Maeda is going to step up and become a star member of the rotation, but he's probably a mid rotation starter if he stays healthy and that's very valuable considering the contract he signed. If he's an average starter for 170 innings, the signing is a huge win, anything more is gravy.
Bellinger was an over slot selection in the 2013 draft that is totally wacky. The team selected a "safe college starter" in Chris Anderson with the 18th pick, then selected current Philly Tom Windle with their 2nd round pick, and then selected current Cincinnati Red, Brandon Dixon with their 3rd round pick. It wasn't until the 4th round that they got a rising prospect in Bellinger. Cody slugged 30 home runs in 544 plate appearances, that's impressive even if he did his bidding on the equivalent of the moon. Not to mention his defense has been described as major league ready by several outlets.
The one thing that fans should want to see from Bellinger is whether his relatively high strikeout figures (27.6%) are a part of him as a player or just him attempting to mash in a league that was made for young slugging 1b's. Hoping he can hold his own against advanced pitching is the main question about his 2016 season, his prospect star is certainly on the rise though.
Verdugo was a pitcher once upon a time, and many teams thought the Dodgers were crazy for selecting him as an outfielder. Verdugo's 2015 began miserably, for the first month and a half he owned one of the worst lines in the minor leagues .220/.260/.298. Apparently his swing was out of whack and after a midseason adjustment, he hit .354/.382/.515 the rest of the way, including a .385/.406/.659 line in the Cal League. You'll note that despite the huge swings in production, the difference between his average and his on base percentage is minuscule, he still only had a 4.3% walk percentage the entire season, that's something he should work on. Or if he's going to keep that low walk rate, his strikeout percentage should be just as low, and a 12.5 K% is very Giantsy.
So the goal of Verdugo's 2016 is to maintain his low K/BB ratio, any rise in striking out hopefully is accompanied with a rise in walks which is probably to be expected as he climbs the minor league ladder. If he does so, expect him to be a unanimous top 100 guy by midseason.