Everyone in the Dodgers Nation knew Corey Seager was an outstanding rookie – It turns out all of his peers in the National League thought so as well.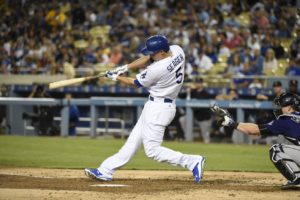 Yesterday Seager was named the winner of the 2016 Players Choice Award for National League Outstanding Rookie. This award is voted on and presented by the players themselves. It's one thing to have the sportswriters to give an award, but it's absolutely something else to be recognized and awarded by your peers. The other two finalists were Trea Turner (Washington Nationals) and Aledmys Diaz (St. Louis Cardinals).
In news that broke an hour ago, Corey Seager brought home a Silver Slugger award. He is the first Dodgers shortstop to win the SS award, and the third Dodgers rookie to win one. Fernando Valenzuela (1981) and Mike Piazza (1993) were the other two.
Seager's production at the plate for 2016 was .308/.365/.512 with 40 doubles, 26 home runs, 72 RBI and .365 OBP. In the postseason Seager's bat cooled off a bit. He hit .205/.255/.364, but he also powered one double, two HRs and four RBIs.
Corey Seager is also named as a finalist to win the NL Rookie of the Year and Most Valuable Player awards.