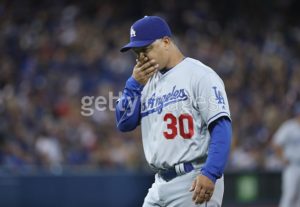 Julio Urias became the youngest pitcher to start a playoff baseball game. And with that you can always be sure that a day gives you some relevant information. A cool little factoid that will be bar trivia one day.
Nobody's gonna remember his actual outing though, right? That's how this works?
Who am I kidding, Julio Urias was pretty good until he wasn't and the moment he fell off it was, well it was unfortunate for the Dodgers. Urias in his first postseason start ever got through 3 innings relatively unscathed but the Cubs teed off of him in the 4th inning. The inning started off with a bunt hit for Ben Zobrist who is becoming a Giants level nuisance to this team. Javier Baez followed that up with a single to left, and so did Wilson "Pete Rose" Contreras who drove Zobrist in with another single to left.
The common thread between those hitters? They all had two strikes against them at one point or another. Putting away batters like Hill did yesterday is important (huh).
This game was about getting the Cubs hitters out of their slumps, and Addison Russell, who is one of the better young shortstops in the game, hit a massive home run off of Urias to drive in both Baez and Contreras, putting the game in a precarious position at 4-0.
Pedro Baez would attempt to keep the lead there and while he got out of the inning relatively unscathed, Anthony Rizzo began his redemption game with a long home run to right center field making the game 5-0.
Now the Dodgers should be upset, both for the pitching effort, as well as the defense, as the umpiring (for both sides) has been horrible this series. But uh.
DISCUSS
Debate night drama. pic.twitter.com/2XyzF5c8kd

— Chicago Cubs (@Cubs) October 20, 2016
The Dodgers are lucky that this didn't cost them a chance at winning the game. I guess you could argue that a 1-0 lead would have been psychologically insurmountable again, or that they play the game differently and circumstances would have been different and that the game would have been different.
I'm not willing to go there, and while Angel Hernandez is generally awful, he was particularly bad in this game I have talked to Cubs fans who feel that game 3 was awful in a similar light, perhaps not to the extent of literally costing a team a run by not using replay correctly, at the same time this doesn't ease the fact that the bullpen was a tire fire and Julio Urias couldn't put hitters away.
I am definitely mad about not getting a game 4 in Dodger stadium, it was a poorly played game and a blown opportunity but let's look at facts.
Clayton Kershaw will pitch in one of the next 3 games
Rich Hill will pitch in another one of those.
Kenta Maeda and the bullpen will pitch in one more of those games.
The Dodgers are throwing their best pitchers at the Cubs. Because Maeda may matchup against Lester, the Dodgers will have an overwhelming advantage in at least the Kershaw start and if not they are close to even otherwise.
Winning two out of three in this context is certainly doable and while going back to Chicago sucks, it was probably expected that this was going to be a long series.
Simplifying it even more, if they win the Kershaw and Hill starts, they win the pennant. That is a situation you'd take coming into the postseason every single time.
Another fact is that the Dodgers offense has to put together a game like the Cubs just did sometime in these next 3 games, against Lester would be amazing. The point is obviously that the Dodgers cannot lean on shutting out the Cubs in every win, this is a good way to lose in the NLCS. But at the same time Kershaw, Hill, and Kenley are likely rested and ready to go, i'm guessing there will be a lot of them in the final 3 games.
NLCS. Tied 2-2. Best of 3. Kershaw-Hill-Jansen. Do the thing already.