---
Take a look at these numbers: Major League Baseball has existed for 140 years. More than 210,000 games have been played over that span. There have only been 23 perfect games thrown. Last night, Los Angeles Dodgers pitcher Rich Hill was on the cusp of becoming only the 24th man in history to accomplish that feat. And then his manager, Dave Roberts, stopped him cold.
The skipper pulled Hill just when he could see the top of Mount Everest. Someone else would be planting that flag on the peak. He was yanked after running 23 miles of a marathon. Someone else would cross the finish line. He had won nine rounds, but he had to remove the gloves, and let someone else finish the fight.
That's the rub. Baseball has its stars, but above all, it's a team sport. In basketball, one player can score 40 points and win the game. In baseball, even someone throwing a perfect game needs players behind him to play flawless defense and make spectacular catches – like Yasiel Puig did – to keep the quest alive. Apparently, the Dodgers are going to ride that team concept all the way, in the biggest way possible.
In the eyes of Dodgers' management, Hill's individual accomplishment was outweighed by the larger team goal – to win a World Series. My brain can certainly see the logic in that, but my Dodger blue heart felt Hill's disappointment at not being allowed to finish, almost as though it were my own.
Lots of us felt that way. The immediate reaction to Hill being pulled was flames shooting from my Twitter app. Dodger fans across the board were falling out of their chairs, dropping their beer glasses, and generally losing their minds.
We all knew we were seeing something special. And we all felt the momentum building toward Hill making it to the highest baseball peak. He had struck out the side in the 6th frame, and in the 7th, Yasiel Puig made a fantastic, almost impossible, catch to preserve his pitcher's perfect game (talk about being a good teammate).
That's why we all felt kicked in the collective blue gut. Like Hill, we were starting to taste that perfect game. We were on the mound with him. We were all sharing that dream that was coming into reality. Only baseball does that to you.
Many of us grew up dreaming about hitting that World Series winning home run, or of pitching that perfect game. I dreamed it because baseball is the only sport where many of the athletes look like regular-sized people. I wasn't going to grow up to be a 7-foot-something point guard, or a 240-pound running back with lightning speed. But I could see myself as a light-hitting second baseman who catches lightning in a bottle in one magical moment. Thus, it wasn't such a reach to imagine myself in Hill's baseball cleats, and to feel some of his frustration.
Regardless of the logic behind the decision, Hill was cheated out of something incredibly rare. He was that close to the goal – and he earned the right to win it or lose it. A fellow Dodger might have made an error, or a Marlin could have gotten a hit, but Hill was in control of his destiny about as much as one could be. He was making steady progress, and then his manager took the ball away. It wasn't his night, because the boss said so.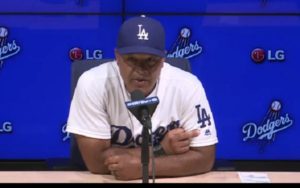 After the game, Roberts and Hill gave conflicting stories about Hill's blister-plagued finger. Roberts said the finger was building "heat". Hill said he felt nothing unusual, and his finger was fine. Pitching coach Rick Honeycutt was asked what were the mitigating factors behind pulling Hill. Honeycutt gave a long answer that didn't list a single one. When he was further pressed on Hill's status, Honeycutt said Hill was physically fine. There was nothing wrong.
The Dodgers will move on with another win in the column – a team win. Because that's how the boss wanted it.