It was a simple solution. Manager Dave Roberts should have started Andrew Toles in left field. In fact, Toles should be starting every game until he shows he shouldn't be out there.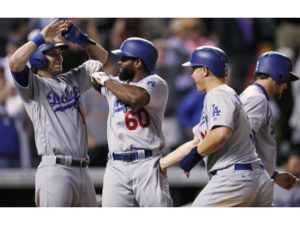 Because if there is one place that Andrew Toles belongs in a Dodgers playoff game, it aint the bench.
Ever since Toles joined the team, he's been showing flashes of baseball brilliance. At the very least, he has proven to be a consistent spark plug, a clutch performer, and an inspiration to his teammates and the fan base.
But Toles didn't get the start in left field; Howie Kendrick did.  That decision had consequences. Dodgers' starter Kenta Maeda was in trouble right from the get go yesterday.
In the Cubs' half of the first inning, Maeda gave up a leadoff single to Dexter Fowler. Big gun Kris Bryant then pounced on Maeda and sent a screamer toward left field. When Kendrick (a part-time outfielder) couldn't catch up to it, the ball thwacked off the ivy-covered wall for an RBI double, sending the Cubs and their fans into a first inning frenzy.
I couldn't help but think, "Andrew Toles makes that catch."  If he does, those runs don't score, Maeda gets a breather, order is restored, and the inning – maybe even the game – ends up differently.
I get it. Kendrick starts over Toles in LF because of his experience, and because of "matchups".  It may be all about lefty-righty matchups with the stat-heads, but let's remember that strategy never really proved itself to be effective throughout the regular season. Joc Peterson has improved his hitting against southpaws with consistent play, and Andre Ethier hit a PH home run off southpaw Lester. If given consistent opportunities, I'm confident Toles can do the same.
While we're at it, a similar argument can be made for starting Andre Ethier as well.
Before he suffered a broken leg in Spring Training, Ethier was tearing up the baseball so much, the skipper named him the Dodgers' leadoff batter. After missing most of the season, Ethier returned and showed – in limited playing time – that he still has a steady batting eye, spot on timing, and home run power. And he can hit with power off lefty pitching.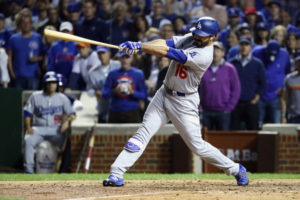 But Ethier doesn't start. Josh Reddick, Mr. Smoke and Mirrors does. Reddick was awarded favorite son's status upon arrival. I suppose that was based on his experience and  the numbers crunchers' love of his past numbers. He's put up a semi-decent BA with he Dodgers, but for the most part, Reddick gets his hits when the game isn't on the line. He's much more prone to hit a weak grounder with RISP than anything else.
Manager Roberts gave Reddick much more playing time over  Ethier and Yasiel Puig in the Nationals series. He got away with the gamble, but not without our witnessing Reddick coming up short on foul balls that Puig would have caught up to, and barely making catches that Ethier could have handled much easier, considering he patrolled right field in Chavez Ravine for a decade before Reddick came along.
We saw the Cubs continuously shut down Dodger rallies last night, reminding us defense in a playoffs-charged atmosphere cannot be under appreciated. Neither can clutch hitting.  Andrew Toles and Andre Ethier came up with big at bats to show they deserve to start and not ride the bench any longer.