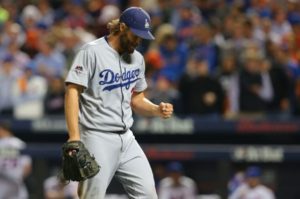 Pardon the late recap, I didn't start writing this recap until the 9th inning. You can surely excuse the vomiting I was busy with, that was a whale of a game.
Going into this game, it was somewhat of a must win for the Dodgers. Going down 0-2 back to a 3 game series in Los Angeles was going to be really difficult of course. So to 'save the season' the Dodgers sent their 'emotionally drained ace' to the mound. The Cubs countered with Kyle Hendricks and they gave an incredible display.
The Dodgers looked totally overmatched versus Kyle Hendricks in the first inning, he had his stuff working and looked overpowering versus Dodger hitters setting down the Dodger lineup in order in the first inning.
Luckily Adrian Gonzalez gave the Dodgers the one and only run that Clayton and Kenley Jansen needed with this swing in the second inning
Stay hot, @Adrian_ElTitan. ? #LALovesOctober pic.twitter.com/5DtVPiaeXD

— Los Angeles Dodgers (@Dodgers) October 17, 2016
Gonzalez is rounding into form and he is a very streaky hitter, a good series could propel the Dodgers past a ridiculously tough opponent with any cooperation from the rest of the offense.
To be fair, Joc Pederson had some great plate appearances and nearly hit a home run following AGon but just missed one of Hendricks's numerous mistake pitches.
Clayton Kershaw came up massive, and he had his best postseason performance, his slider, command, and control (for the most part) was on meaning he dominated a Cubs lineup that should scare any starting pitcher in the league.
He looked totally dominant, going 7 frames, striking out only 6, but kept batters off balance all night. He ended up walking one allowed two hits. Those two hits were bunched up back to back and represented the Cubs only real threat in the 5th inning, but Jason Heyward continued his miserable 2016 campaign and everything up until then was very uneventful.
By uneventful of course, I mean amazing!
Did I say uneventful? Well… During Kershaw's 4th inning, Anthony Rizzo hit what looked to be a game tying home run with an absolute bomb to right field, but it was pulled just enough and the wind blew it just far enough to go foul. Rizzo later grounded out to Kershaw's delight.
Kershaw did start to tire, and that man (Anthony Rizzo) walked to start off the dreaded seventh inning for Clayton Kershaw. Allowing the leadoff runner in the inning where your demons are normally exposed is a poor strategy. Kershaw though, gutted through an egregious Yasmani Grandal error as he started his route on a Ben Zobrist popup terribly and couldn't catch a routine pass.
Addison Russell then flied out to left and then Javy Baez came up to bat:
[VIDEO] Baez's fly out and reactions. https://t.co/9u3ajFAnQr

— Chad Moriyama (@ChadMoriyama) October 17, 2016
Terrifying right?
The Cubs fans acted like every ball hit in the air was traveling 500 feet which did get annoying but that ball looked, sounded, and felt out. The Dodgers got the breaks today, thankfully and Kershaw's line and narrative looks fantastic!
A special shoutout goes out to Kenley Jansen who is becoming the Dodgers version of Mariano Rivera, going multiple innings to shut down games. He was brought in after Kershaw conquered his 7th inning demons and dominated the Cubs, getting 4 strikeouts over 2 frames, and getting Anthony Rizzo to softly line out to end the game.
This was a huge win, the Dodgers were competitive in both games and definitely could have won last night (which was easily the worst matchup of the series) with some better pitches from Joe Blanton. I think all of the narratives that the Cubs were going to waltz through this series are dead and we have a legitimate series on our hands. Game 3 will be huge, and Dodger Stadium will be popping, so enjoy the off day and revel in the first road NLCS win since…
1988.