At least once a year, the Dodger Stadium marketing team offers up some type of chotchke that I absolutely, positively must have. My Dodgers collectibles showcase already has more than enough bobbleheads, so it was pretty easy for me to resist this year's crop.
Then I saw it. I didn't even know I wanted it until I saw it. The Puigy Bank. I hadda have it. So I headed out to Chavez Ravine today to get my hands on one for my very own. I also shot a few photos to share with you all. Let's experience a day at the game together.
Game time was 4:10 in the afternoon. It was a balmy 76 degrees, which is pleasant – if you're not sitting in the sun. Taking that into consideration, I bought tickets on the shady side of the stadium.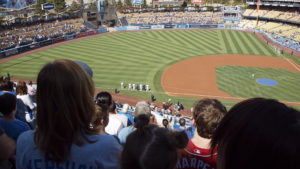 Here are a few of the boys during the national anthem. From left to right: Matt Kemp, Enrique Hernandez, Max Muncy, Chase Utley, Cody Bellinger.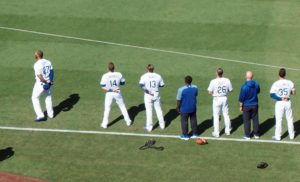 Everyone in press row was ready to get things started.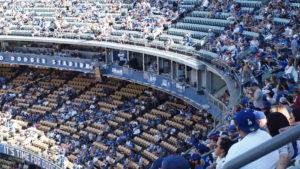 Here's Kenta Maeda delivering the first pitch of the game (a ball).  Maeda pitched well enough to win – the third Dodger pitcher in a week to do that, yet the team still lost.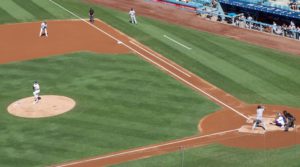 A shot from mid-game, the boys along the rail.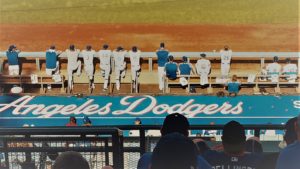 I was pretty comfortable in the cool shade, but the folks in the pavilions were sun-drenched just about the entire game.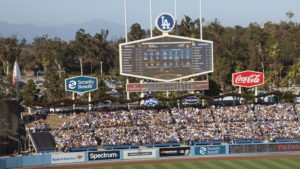 Around the seventh inning, the afternoon began to feel lazy. Despite the boys losing, there was no place I would have rather been.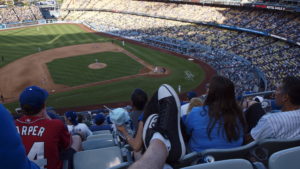 Puig and Co. got some electricity going when Kike Hernandez belted a home run.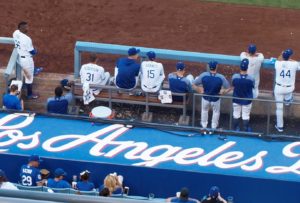 The Dodgers put up a bit of a fight in the ninth, but a win just wasn't in the cards today. See the kid wearing the Bryce Harper jersey in the photo below? He'll figure again later in the story.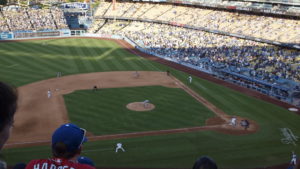 After the game, it was time to head out to my preferred post-game eatin' joint.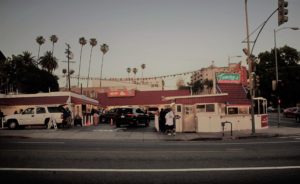 World Famous Tommy's (only the original on Rampart will do) for one of LA's iconic burgers.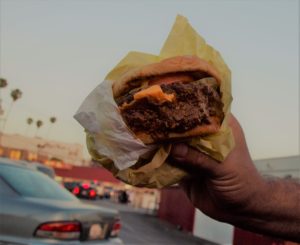 You know who else decided Tommy's was the place to be after the game? Yup, Bryce Harper kid. We had a good laugh at  what a small world it is.
A day at Dodger Stadium and a new Dodgers toy for the display case, all capped off with a humongous, delicious and messy, chili cheeseburger. That will do, indeed.