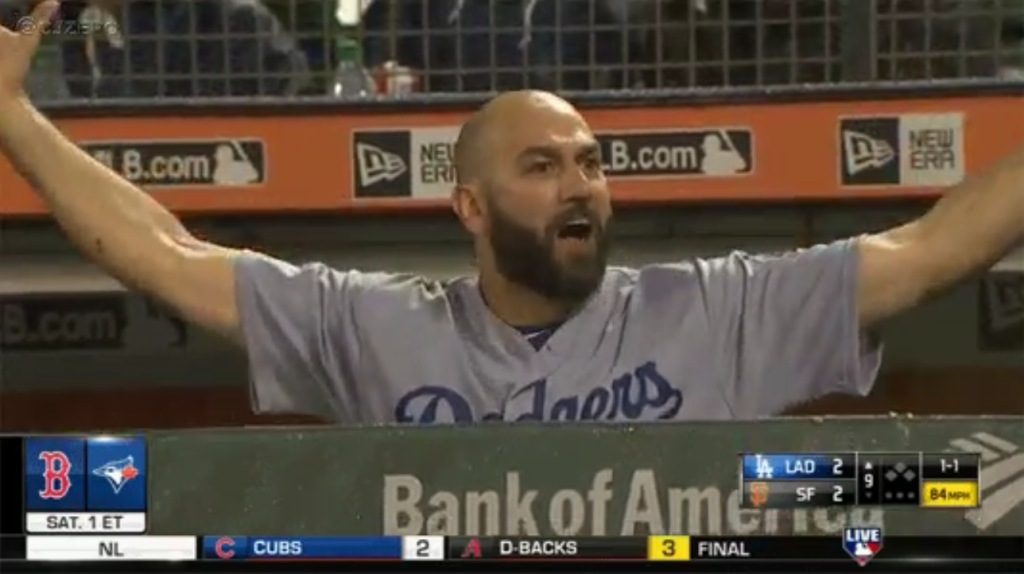 Okay so that road trip had some ups, some downs, and almost nothing in the middle. The wins were either dominant and exciting (shutout sweep of San Diego/coming back for Kershaw) or brutally frustrating (blowing leads in all of the losses at the phonebooth). All in all, a 4-3 road trip, coming back to Dodger stadium, winning 4 out of every 7 road games is a desirable outcome, but lets reevaluate the performance thus far.
Offense:
Astoundingly good, really kept the team in all 7 games for the most part, they look like a more cohesive unit thus far, with superstar performances from Adrian Gonzalez who is a lock to give good production, and Yasiel Puig who, if healthy, will go a long way in making this a competitive lineup on a nightly basis. Joc Pederson looks competent at the plate, something that I could not say with any confidence after the all star break last season. The Dodgers should pick up the home run pace, there is too much power on the team not to, and they did play more than half of their games against a good pitching team inside the hardest ballpark to hit home runs when it was very damp. And… perhaps this is where it all falls apart for Chase Utley and I will accept full blame for it, but Scott put up a very important post about his effort so far this season, remember that Utley was a >4 win player as recently as 2014, yes the difference between 35 and 37 is huge, and that was sandwiched by a season where we it seemed likely he'd retire at the end, but he is one of the most talented 2b of all time and looks healthy this season, it's something to keep an eye on.
The offense was the biggest question mark that nobody was talking about, depending on your expectations of the pitching staff, it is easy to overlook the injury/performance questions that the collection of position players have because whoa that pitching staff as a whole looks awfully vulnerable (more on that in a sec). Unfortunately, the pitfalls are still there, the team is not that far away from starting Jose Tabata in left field in mid-April, depending on how Scott Van Slyke's back holds up.
However, I have faith that Corey Seager is going to start hitting balls out of the park, ditto with Justin Turner who hasn't slowed much from his microfracture surgery in the offseason, Adrian Gonzalez is hitting like he always does and that will translate into home run power, I am bullish on Yasiel Puig this season, same with Joc Pederson, oh and the Dodgers get Yasmani Grandal back on Tuesday, no offense to Austin Barnes or AJ Ellis, but Grandal has the ability to put up a 20 home run season. Perhaps this is my perspective given my fear surrounding the offense coming into the season but I see reason to be optimistic.
Starting Rotation
This is still as up-in-the-air as it gets, I would certainly say that this is the root cause for most of the concern in the offseason, and only two pitchers have thrown 2 games, on is Clayton Kershaw who was fantastic in the season opener, less so in his last start (7 IP 9 K's 1 BB/ 8 IP 5 K's 1 BB 2 HR's, respectively) although he's the best on the planet until he isn't and one could certainly forgive his un-Clayton like start in San Fransisco because of iffy weather conditions throwing him off of his routine/ it being generally cold and damp -remember Madison Bumgarner looked kinda awful that game as well-.
The story was similar for Scott Kazmir who had a 6 inning 1 hitter shutout in his season debut followed up with a 4 inning 6 run effort in which he gave up 3 dingers and couldn't hold a 5 run lead spotted to him from the beginning. Though, if we are giving Kershaw the benefit of the doubt, we should reserve total judgement on him until later, although he's certainly not Clayton Kershaw. Similarly with Alex Wood, good things were there, the velocity was better than it has been in awhile, but he was as hittable as ever, and we haven't seen him pitch in a place that isn't San Francisco yet.
I wasn't personally WOW'ed by Kenta Maeda in his last start and I suspect he's going to be frustrating at times because of his stuff, but I am a big fan of his control, out of the 2-5 options I am most comfortable with him right now which. While this isn't saying much, because it was only one start, I think the floor for him is reasonably high and the rotation needs that.
I don't know what to say about Ross Stripling, he had that no hitter going but he didn't have much control/command of his pitches, it worked but his K-BB ratio has to be above 1. If nothing else he's A) healthy and B) has pitches above the Zach Lee tier which makes me interested to see what he becomes, more marginal prospects have turned themselves into good pitchers.
TL;DR: we can't really draw conclusions yet but some good, some bad.
Bullpen
Yikes. The bullpen allowed 11 runs on 3 home runs in the past series even if it was preceded by a perfect series in San Diego, nevertheless, they didn't exactly inspire confidence and that's a huge problem.
J.P. Howell has appeared in 3 games, got 3 batters out, given up twice as many runs and he is one earned run away from his 2015 season total, Yimi Garcia has thrown too many meatballs, Pedro Baez, Chris Hatcher and, Joe Blanton too, but you guys already know the story. In reality, the Dodgers need somebody or three that can hold down the late innings, they've got their closer in Kenley Jansen, but everybody else has warts.
I'd be surprised if the team has the same bullpen that it's running out there, but excluding Kenley, the core of the pen returns from last year and they weren't that impressive last season.
We can't make an informed statement on this group yet, it was only one bad series in one bad ballpark but the level of winning the Dodgers have experienced thus far is simply not sustainable, for this team to contend, the bullpen cannot be the level of bad that it has been. I personally will take a 4-3 road trip all the time, and this is no exception! Despite this, we should understand that in order for the winning to continue, the bullpen has to be better because there are positives to draw from the rest of the team.