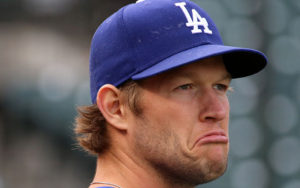 Be sure to tell me how much of an idiot I am in the comments!
I wanted to get one of these off because this figures to be a busy offseason. Andrew Friedman and company will have a lot of work to do in order to make this roster compete in 2017 with the elites in the National League. The good news is that they certainly are creative!
Some of the multiyear contracts that the players have signed haven't turned out great so it'll be up to the team to maneuver past the Scott Kazmir and Brandon McCarthy contracts while adding some upside not named Clayton Kershaw in the rotation. They have to figure out how who is going to be the closer of the future now that they have no obvious internal option, and before you ask I will quit this site forever if they go into 2017 with Pedro Baez closing games…
I don't see it happening.
They also have to figure out third base and understand that the next third baseman might not be long for the position because a Corey Seager move could happen at any point within the next few years, it's something to consider when looking at the trade options for the hot corner this offseason.
The Dodgers have a strong stable of prospects as assets to fix the roster both at the major league and at the minor league level. Ultimately, I am trying to mix a realistic offseason with what i'd like to see happen, I doubt I get any of the trades correct, and some of the signings are interesting fits that rest on several things happening but I am sure the needs they have will be fixed one way or another.
So let's get to it.
---
Luis Avilan– $1.5 Million
Scott Van Slyke– $1.3 Million
Chris Hatcher– $1.4 Million
Josh Fields– $1.2 Million
Matt Swartz of MLB Trade Rumors made a fantastic resource in predicting arbitration numbers of every eligible player in the league, these numbers are sourced directly from there.
This list is missing some big names but the names on it are cheap enough to justify bringing back, Hatcher and Van Slyke get one more chance to be meaningful contributors as Dodgers.
---
Extension
Yasmani Grandal– 3 years, $42 million dollars
This buys out one free agent year of Grandal, giving the Dodgers a good framing catcher and a strong hitter. In return Grandal gets some nice security and a cool payday in case anything goes wrong with his health. The Dodgers catcher is better than Francisco Cervelli who signed a 3 year, 31 million dollar contract in May, so Yasmani gets 11 million more considering the free agent market is about to expand. This is crucial because it allows them to have more options regarding Austin Barnes.
---
Internal Free Agents
Justin Turner– 4 years, $72 million dollars
Chase Headley, during the 2014 offseason signed a 4 year 52 million dollar contract that was viewed as being a bit under market value. While that has proven to be a mistake by the Yankees, I see Headley and Justin Turner as having similar situations. While Turner has had much more success offensively, being 2 years older than Headley was at the time of his contract will prevent the years from being too absurd. Ultimately the Dodgers will have to overpay a bit in order to keep him as far as total dollars are concerned.
I am of the opinion that they do need to keep him, his age works both ways. He will likely decline sooner than a younger player, however his age will likely prevent him from getting a huge guarantee, which allows the Dodgers to see how much longer Corey Seager can handle shortstop with the ability to construct a roster either way, a win all around.
---
External Free Agents
Mark Melancon– 4 years $52 million
The team is going to have to pony up for a closer, the easiest way to do this without getting into some moral conundrum -The Aroldis Chapman enigma- is signing Melancon. One benefit of replacing Kenley Jansen with Melancon is that Kenley signing with another team guarantees the Dodgers a draft pick which is something to look out for. Melancon basically gets the Papelbon contract cause he's been an elite reliever for 4 years, sporting a 2.39 ERA and a 2.57 FIP.
I'd understand if the team is wary about him considering his velocity is trending a little bit downward, but signing Melancon is an opportunity to get a draft pick at the back end of the first round and a reliever that Dave Roberts trusts to close games.
Steve Pearce– 2 years, $26 million
This is an off the radar name that is really, really intriguing. Pearce is a utility player who played Right Field, Left Field, Second Base, and First Base. But his versatility isn't the important thing about him, those who hate Jon Lester and any lefty the Dodgers ran into last season will love him.
He owned a .867 OPS last season and was targeted by this team during the trade deadline. The thing about Pearce is that he is a career .270 hitter against left handed pitching (.853 OPS). He fixes a huge hole in the lineup against left handed pitching and allows him to be Adrian Gonzalez's full time platoon partner (AGon needs it). The only issue is he's coming off elbow surgery which isn't a small wart with him, but if he can pass a physical then he'd be a fantastic addition to the 2017 team.
Yoenis Cespedes– 5 years, $125 million (1 year $25 million team option, 15 million dollar buyout)
Yoenis opts out of his deal with the Mets cause if not he'll get in the Jose Bautista situation, hitting free agency at the worst possible time. He is coming off of a season where he posted a .884 OPS, upped his walk % 2.7 percentage points, and repeated his ISO from last season where he was. He did deal with some minor injuries but the reason his defense was worse this season was the fact that he was forced into playing CF primarily because the Mets couldn't plan the OF correctly but that wasn't his fault. This would be the cleanest way to figure out the OF because they get the best version of Yasiel Puig and he'd be 31 for the entirety of next year.
A 5 years for 25 million dollars per year with the 10 million dollar buyout seems reasonable considering he's 31 years old, perhaps the Dodgers get outbid for him, but it surely won't be from the Mets side.
Lourdes Gourriel 4 years $50 million
The Cubans the Dodgers have signed under this scouting department have been significantly better than the last. Yusniel Diaz is cracking some top 100 prospect lists, potentially being a solid, cheap corner outfielder who is only 21 years old. Similarly, Yadier Alvarez has put himself on the prospect map with a dominant season in Rookie Ball and Low-A Ball. He will start breaking into top 100 lists giving the Dodgers a legitimate replacement for the prospects they are about to graduate/trade away.
So if the team likes what it sees from Gourriel –who as a 23 year old, posted a .967 OPS in the Cuban National Series- then why not?
His brother, who just signed with the Astros is Cuban legend Yuliesky Gourriel, but if the scouts like him then Gourriel could be a prime replacement for the Chase Utley/Howie Kendrick/Enrique Hernandez experiment. He isn't quite as good as Yoan Moncada, but is on the open market so that any team could sign him at no penalty other than the money they're paying.
My thinking for this contract is basically the fact that the Dodgers get him for less than Moncada got even if he's on the free market. The upside for Gourriel is that he has the ability to opt for free agency after year 4 and the Dodgers forfeit the final 2 years of arbitration. A compromise for both the dollars and years, and an infielder hitting the open market at 27 could be huge for his future prospects, and a 12.5 million dollar guarantee seems like a nice deal.
Brad Ziegler– 2 years $18 million
Ziegler seems like a good option to go after considering his career numbers, he has a 60 ERA- meaning he's 40 points below the league average. The Dodgers have to replace Joe Blanton somehow, and don't get me wrong, Blanton did a great job last season but the flyball heavy approach killed the Dodgers in the playoffs
This article draws on a flaw the dodgers had facing the cubs https://t.co/IWXd4CBeXd

— fatherjohnmistymaytr (@marrnotmaher) October 25, 2016
Ziegler isn't Zach Britton but a 66.3% career GB% is a good way to compensate the for fact the Dodgers are still gonna be flyball centric as a bullpen, Ziegler would represent a real fireman if the Dodgers wish to use him that way or a good setup man.
---
Opt Out/Outrighted/DFA/Non-Tendered/Waivers
Chin Hui-Tsao- Due $800K in arbitration
He doesn't need to be occupying a roster spot.
Louis Coleman– Due $1.5 Million in arbitration
Ehhhhhh.
Free Agents Not Retained
Through 2 up and down years I'd personally like to thank the @Dodgers and the fans. I'll never forget them.

— Brett Anderson (@BrettAnderson35) October 23, 2016
Kenley Jansen
He goes to a team needy for a closer and overpay him in a Zack Greinke type situation.
Chase Utley
Wore down at the end of last year, killed the team in the NLCS, I will always have love for him though.
Probably best for both sides to move on.
He's either going back to Boston or somewhere else back east, i'd be surprised to get him back next season, though the Dodgers could be aggressive if they fall short on an Archer/#2 starter upside type and he's still out there.
Cost himself millions by opting in last offseason, there are better, younger, cheaper, internal options.
Joe Blanton
Wouldn't surprise me to see him back but it seems the Dodgers could fill this need by signing a different type of pitcher, one not so much like the other members in the bullpen.
Jesse Chavez, Jordan Schafer, Will Venable, Dan Johnson, Eric Stults (???) Sam LeCure
It was nice having you?
---
Trades
To Tampa Bay: Jose De Leon, Alex Verdugo, Austin Barnes, Alex Wood, Yasiel Puig
To Los Angeles: Chris Archer
The Rays get 2 top 50 global prospects in De Leon and Verdugo, a Drew Smyly type starter in Alex Wood, their starting catcher for the 2017 season in Austin Barnes, and Yasiel Puig on a relatively cheap contract to try to fix.
To Minnesota: Scott Kazmir
To Los Angeles: Ryan Pressly
This is a reliever the Dodgers seem to like, lots of fly balls who's cheap and has good command/control numbers. He's not great but freeing up the roster spot allows the Dodgers more flexibility to make the rest of this work.
-Don't focus on the reliever that I listed seeing as almost every middle reliever in the game is in play. Focus on the information that they want to move on from Kazmir and he wants to move on from the team, I'll bet he's not back next year.-
---
Injured
Hyun Jin-Ryu- "expected back in time for spring training" who knows though?
It's a damn shame about Ryu.
Yimi Garcia– I hope he's able to pitch by Spring Training but things have been awfully quiet on this front.
Adam Liberatore– Expected to be ready for Spring Training after elbow surgery during the playoffs
Trayce Thompson– Should be ready for Spring Training after a fractured back kept him out down the stretch into the playoffs.
---
Lineup
VS RHP
Andrew Toles LF
Corey Seager SS
Justin Turner 3b
Yoenis Cespedes RF
Adrian Gonzalez 1b
Yasmani Grandal C
Joc Pederson CF
Howie Kendrick 2b –holding Gourriel's place-
Vs LHP
Howie Kendrick 2b
Corey Seager SS
Justin Turner 3b
Yoenis Cespedes RF
Steve Pearce 1b
Trayce Thompson LF
Joc Pederson CF
---
Bench
Carlos Ruiz C
Steve Pearce 1b/2b/OF
Trayce Thompson OF
Andre Ethier LF/RF
Charlie Culberson SS/3b
---
Rotation
Clayton Kershaw LHP
Chris Archer RHP
Brandon McCarthy RHP
Kenta Maeda RHP
Julio Urias LHP
---
Bullpen
Mark Melancon CL
Brad Ziegler SU
Grant Dayton SU
Pedro Baez MR
Ryan Pressly MR
Adam Liberator MR/LOOGY
Chris Hatcher LR
---
Rest of 40 Man Roster
Rob Segedin 1b/RF/LF
Lourdes Gourriel IF
Scott Van Slyke 1b/OF
Chris Taylor IF
Hyun-Jin Ryu SP
Carlos Frias SP/RP
Josh Fields RP
Jacob Rhame RP
Luis Avilan RP
Yimi Garcia RP
---
So that's the roster, and if we're being honest very few of these moves are going to happen, maybe I'll only get Justin Turner correct, maybe I'll whiff and they let Turner walk and sign Kenley and go after some crazy deal that lands Logan Forsythe and Evan Longoria. There will almost certainly be a 3 way deal at some point this offseason and those are impossible to predict. This is just to emphasize the fact that the Dodgers have a few holes to fix before they're ready to challenge the Cubs again in a postseason environment.
At this point those holes are:
Third Base
Closer
Second Base
Setup Man
Outfield
Starting Rotation
This is at the very least but we will certainly see a lot of activity this offseason.