Are you heading out to see the Dodgers at Camelback Ranch? Are you curious where the prices for Dodgers tickets fit in the grand scheme of ticket prices for all the other teams?
If so, here's a couple of handy charts that illustrate where Spring Training ticket prices for the Dodgers stack up against everyone else: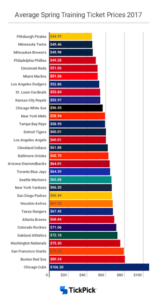 Counting up from the Pittsburgh Pirates, who are the least expensive team to watch, the Dodgers come in with the seventh-lowest ticket prices. The average price for a ticket comes in at just under $53 dollars.
That's good news for Dodgers fans. I would have guessed the 2016 NL West Champions were among the higher-priced teams.
It's no surprise the new World Series champs, the Chicago Cubs, have the most expensive tickets, leaping over everyone else's prices, and averaging over $100 bucks a shot. Yikes!
Here's another chart showing how ticket prices for the Dodgers have fluctuated over the past few years: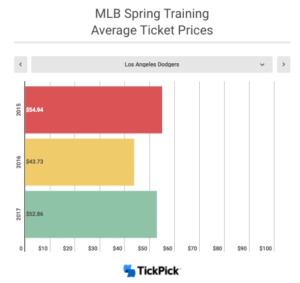 They rose over last year's prices, but someone's got to pay for Kenley Jansen's contract, right?
At least the Dodgers are still keeping prices low, relatively speaking. So go ahead and splurge on that jumbo dog when you're at Camelback.