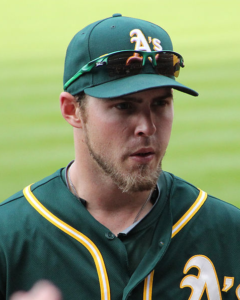 First of all, a lot has happened since I checked in, things naturally get overwhelming, life moves in mysterious ways but I am ready for writing to be fun again, and thanks to this space I am fully ready for that to be the case again.
Since we're on the topic of 'fun things' maybe it's time to talk about Josh Reddick one more time. Expectations for the left handed hitter rose the moment he was traded with Rich Hill to the A's for Jharel Cotton, Francellis Montas, and Grant Holmes, with many fans and talking heads considering that an overpay for a couple of months of an outfielder and a starting pitcher.
Well… we're a month in and Reddick has received nothing but scorn from fans and talking heads regarding his performance, a twitter search for his name reveals some pretty discouraging things said from this team, and while clamoring for Yasiel Puig ignores some significant inconsistencies, one could understand the frustration because Puig's floor on the field is still higher than this…
Let's rehash! In 82 plate appearances he's hitting .147/.210/.160, good for a 5 wRC+, which is 95% worse than the league average, in some more context independent stats, he is striking out 6% more as a Dodger than as an A, he is walking 2.9% less as a Dodger than as an A, his batting average on balls put in play is obviously lower and while no major leaguer's true talent level is .183, his performance this season as a whole is cause for some concern.
If you choose to look at Reddick's season from an aggressively reactionary standpoint, the Dodgers acquisition as far as hitting is concerned is really awful.
The outfielder had two months to improve the team's production from the rightfield slot… Given that he's a rental and that one month's production has resulted in -9.5 runs below the league average, he has to do something special going into and during September and/or October for him to be anything but a bust. And one has to wonder how likely that is given the unpredictability of baseball and the fact that, well he's already playing with an injury!
Moreover, WHILE IN A SLUMP Dave Roberts insists on playing him versus left handers to get him right, i'd honestly rather see Joc Pederson's career .175/.266/.325 slash line versus lefties right now over Reddick because Joc's defense is significantly better than Reddick's regressing defensive ability (another reason that the trade makes me nervous).
Now, if you choose to look at Reddick's month from a more measured perspective you know that he is bound to get better. *note that the following numbers are him as a dodger* That BABIP probably isn't going to be 94 points below his true talent level for the rest of the season, that slugging percentage isn't going to be 268 points below his true talent level, that isolated power isn't going to be 163 points below his true talent level.
You could point to the fact that he is committed to getting out of this slump and admits to himself that this is rock bottom. You could point to the fact that once he is put in the positoin to succeed he actually will! You could point to the fact that once he stops pressing he's due to break out and become his normal self!
Well, if you're taking the measured approach I think we should consider what we're comparing Reddick against. The 'true talent level' that I compared his Dodger numbers to are his career numbers because one has a pretty good idea of a 29 year old hitter after 2848 plate appearances.
And in those PA's, he is a .252/.314/.428 (good for a 104 wRC+) hitter who's defense has declined ever since his gold glove caliber seasons in 2013-2014. This is who Josh Reddick is and even in Oakland prior to being traded, Reddick's slugging % was a result of him being a contact oriented hitter, not being a slugger who found his power stroke going into the latter part of his prime. His Isolated power in Oakland was actually 24 points worse than his career average, he had a .296 batting average in Oakland because the balls he was putting in play were falling for hits more often than his career would indicate
Don't get me wrong his exit velocity prior to the trade deadline was above average, but it still fluctuated pretty heavily. And nothing in his career would indicate he is a contact driven hitter who walks enough to be a very good offensive player, he has always been a platoon hitter who crushes RHP. Essentially he was Andrew Friedman's answer to Andre Ethier's injury.
I understand that there is a possibility that Reddick gets better and figures out his swing and becomes a valuable contributor to the team, but let's recognize how difficult that will be with only a month left in the season, a finger that is sore, and this immense amount of pressure to succeed and validate the trade.
The thing that sticks in my mind is the sore finger, because what can the team do?
They could hope that he can hit with it and find his stroke while starting everyday. -This is the route they have taken thus far-
OR
They could put him on the Disabled List, pray that he gets better within 15 days and bring him up, healthier and in a better frame of mind. -I guess this is an okay option because an injury like a finger can linger and if they are committed to starting him through free agency, you might as well have him right, but he would only have 2 weeks to break out of his slump and get ready for the playoffs in this scenario which is not an enviable position to be in-
OR
They could just bench him and ride with Andrew Toles who has paired prospect shine with actual production making him a candidate for more than just a fringe 25 man roster occupant, he might actually be something and he's smoking the ball. -This plan isn't perfect because how embarrassing the Puig mess was handled and would basically give up on the Reddick side of the acquisition.-
Perhaps the hardest part about all this is the fact that Reddick really is just a younger Andre Ethier, is that worth holding on to dear life for? For the team's sake I hope Reddick finds a peak out of this valley like vintage Ethier always did just in time for the biggest stretch of the season but he's making it awfully hard to believe in him.