Are you ready for another LADR giveaway Contest? To Celebrate the Dodger's 2020 World Series Championship, we are going to give away, not one but three copies of the 2020 World Series Film DVD narrated by Vin Scully.
CONGRATULATIONS to the following winners:
Jay
william
Mex
(I'll be emailing all of you to collect your info so I can mail you your DVD. Be on the lookout for more LADR giveaways and thanks for reading.) MERRY Christmas!
In order to participate in this giveaway, all you have to do is comment below, leaving your email address, or some way for me to get a hold of you. I will randomly pick three winners to receive the DVD, and ship it directly to your home. Please make sure you leave your email address, so I can reach out to you with details about how to get you the film. I will announce the winners on December 23, 2020 at 12 PM PST. Please respond by December 23 before 12 PM in order to be entered.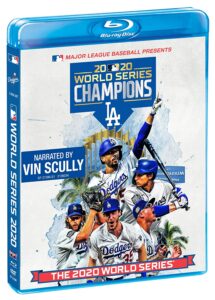 If you win, you'll be able to relish and enjoy the Dodger's beautiful World Series championship on DVD all winter long. Pop in that DVD and relive all the highlights. Watch amazing catches from Mookie Betts, clutch hits from Corey Seager. Power pitching from Walker Buehler. Best of all watch Clayton Kershaw smile and hoist the World Series trophy. Seeing Kershaw holding that trophy may be the most beautiful site in the history of mankind. (Edit, it is confirmed, as the most beautiful scene of all time).
So what are you waiting for? You don't have to answer questions, or do anything on social media. All you have to do is comment and leave your email address. It's as simple as that!