One of the great benefits of the Dodgers winning the World Series this year is all of the awesome merchandise and stocking stuffers. We're all still basking in the glory of the Dodger's beautiful championship. What better way to celebrate than by purchasing the official World Series book? There are two ways to get it with our promo code for the discount. You can click the link below and use the promo code LADR, and or go to Worldseriesbook.com
It's called All for One. Skybox Press has published the perfect coffee table read. The book is officially licensed by MLB. The Dodgers approved this collectible too. There are quite a few gems in this. Check out the highlights.
Exclusive!
The only book Officially Licensed by Major League Baseball

Foreword by Clayton Kershaw

Preface by Dave Roberts

Introduction by Orel Hershiser

Special Dodgers superfan essay by Rob Lowe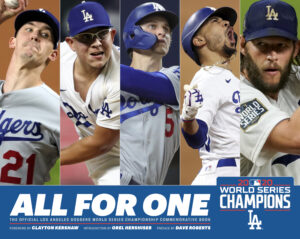 The book is hard cover and 128 pages of full cover photos. If you use the promo code LADR you get 20% off. So act now. This is the perfect gift for that die hard Dodger fan in your family. Or if your family are all Dodger fans (like mine are) buy one for each of them.