Right now we are having a contest giveaway on LADR. We're randomly giving away three, yes three official Dodgers World Series DVDs to three lucky winners. The official World Series film DVD is packed full of highlights, interviews and special features. It could be yours and is the perfect gift for any Dodger fan this holiday season. You can enter the contest by commenting at this POST HERE. The contest is running through December23.
Getting into the nuts and bolts of the DVD, as I mentioned above it is officially licensed by Major League Baseball and is 90 minutes in length. I had originally thought I was getting only 2 for the contest, but I was sent three thanks to Shout Factory the publishing company selling the DVDs.
Here's the best treat for Dodger fans, it's narrated by Vin Scully. The film is stuffed with highlights from the World Series and historic 2020 Dodger's World Series championship season. Vin takes us through the Fall Classic against the Tampa Bay Rays and the film is interspersed with interviews with players from both clubs. There's a ton of great content, enough to keep you occupied until spring training starts in February.
There's also Bonus features included with the DVD that include, regular season highlights, Dodgers clinching moments and a behind the scenes "how they got there" featurette. The case also includes a DVD and Blu-ray copy as well. It's well worth the cost, but you could get it for free over here. All you have to do is comment at the link above. The contest ends on December 23. If you want some more information about the film, check out the press release below.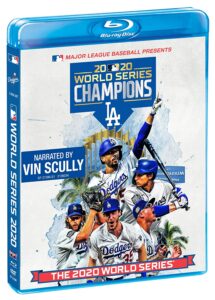 MLB CELEBRATES THE PINNACLE OF AN UNPRECEDENTED SEASON
WITH THE RELEASE OF "THE 2020 WORLD SERIES"
Hall of Fame Broadcaster Vin Scully Narrates the Official World Series Documentary that Chronicles the First Dodgers Championship Since 1988
In-Depth Interviews with Dodger Superstars including Mookie Betts, World Series MVP Corey Seager, Clayton Kershaw Plus Unparalleled Access to MLB's Postseason Bubble Gives Fans Unique Look at 2020's Historic Championship.
Two-Disc Blu-ray™ + DVD Combo Pack and DVD Available to
Purchase & Download on December 8
LOS ANGELES and NEW YORK (November 11, 2020) – Like so many events, the COVID-19 pandemic dramatically reshaped how this MLB season looked and felt. After navigating unprecedented challenges, playing a restructured regular season, a new postseason format and the first neutral site World Series in modern history, the historic 2020 season culminated in an unforgettable Fall Classic and with the Los Angeles Dodgers being crowned champions for the first time in since 1988.
Dodgers fans can rejoice and relive all the excitement, drama, and life-changing moments of the 2020 World Series® against the American League Champion Tampa Bay Rays, in the official 2020 World Series film from Major League Baseball. The documentary will be available in stores December 8, 2020 on a two-disc Blu-ray+DVD combo pack and DVD from Shout! Factory and Major League Baseball. It will also be available on the same date digitally, to own and rent from all major platforms.
Legendary Dodgers broadcaster Vin Scully lends his signature voice to "THE 2020 WORLD SERIES," taking fans on heartfelt journey to the 2020 championship through his unique baseball perspective. As the 1982 recipient of the Ford C. Frick Award, which enshrined him in the broadcasters' wing of the Baseball Hall of Fame, Scully has covered many of baseball's most thrilling moments, including Sandy Koufax's four no-hitters, Hank Aaron's 715th home run and Kirk Gibson's dramatic home run in Game One of the 1988 World Series. He has voiced over the narration for seven previous World Series documentaries including in 1959 (Dodgers), 1963 (Dodgers), 1965 (Dodgers), 1979 (Pirates), 1980 (Phillies), 1981 (Dodgers) and 1986 (Mets).
"It was 32 years since the Dodgers won a World Series and the seventh in the history of the organization, bringing great joy to their fans and the city of Los Angeles in particular," said Scully. "This is their winning story against the Tampa Bay Rays, and it's an honor for me to recount just how they did it."
With MLB playing in a postseason bubble, media presence and access was limited. Producers of this year's documentary utilized on-site crews with approved access as well as other feeds available to capture all the pulse-pounding action and emotion of the season. Expertly crafted from hundreds of hours of footage, the official World Series documentary gives fans a front row seat to this extraordinary championship run through highlights from the entire postseason and in-depth interviews and exclusive bonus features including regular season highlights, clinching moments, featurettes and more.