Friendship bracelets have been around for some time but have recently exploded to become a massive trend. FOCO has just released officially licensed Los Angeles Dodgers Friendship Bracelets for select MLB teams, including the Los Angeles Dodgers. In addition to the MLB ones, FOCO is also offering Friendship Bracelets for every NFL team and select colleges. This trendy accessory comes in 3-packs at the affordable price point of $20, making it the perfect item for anyone who is looking to complete their gameday outfit.
Each of the Los Angeles Dodgers Friendship Bracelets come with a different design and phrase on each. Some of the phrases include "Here To Play", and "I Love Dodger Dog" with mascot charms around it. Of course, included on all of them is the famous Los Angeles Dodgers logo. The bracelets also have thematic team-colored gem beads so you can rep the Dodgers colors on your arm. As a well-known sports merchandise manufacturer, FOCO has consistently delivered high-quality products that resonate with fans. Their attention to detail, commitment to design excellence, and passion for sports culture shine through in each piece they create. The Los Angeles Dodgers Friendship Bracelets are no exception, combining fashion-forward aesthetics with the team's iconic elements to produce a must-have accessory for Dodgers enthusiasts.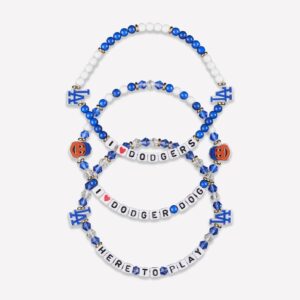 The Los Angeles Dodgers Friendship Bracelets from FOCO will complete any gameday outfit and make you stand out from the crowd. The Friendship Bracelets are unisex and designed to be worn by all ages. With a flexible band that stretches to fit wrists of all sizes. At just $20, these make for the perfect gift for any diehard fan and with the new school year approaching, these make for the perfect gift for kids too. Show off your love for the Dodgers by getting yourself or the Dodgers fan in your life the brand-new Los Angeles Dodgers Friendship Bracelets now! Also be sure to check out FOCO's hit item, their Los Angeles Dodgers Plaid Bib Overalls!