FOCO has just released their annual Bobbles on Parade collection, including one for the Los Angeles Dodgers. The collection features a commemorative All-Star themed bobblehead from all 30 MLB teams to the delight of baseball fans and collectors. With the MLB All-Star game set to be played on July 11th in Seattle, this year's collection features the iconic Space Needle alongside team-themed bobbleheads.
The Bobbles on Parade program started back in 2003 in the city of Chicago. Major League Baseball, the Chicago White Sox, and FOCO partnered to create 34 life-sized bobblehead to promote the All-Star Game, which was held at U. S. Cellular Field on July 15, 2003. From then on, FOCO has launched a collection each year themed around the All Star Game, but it wasn't until a few years ago they began offering these highly sought out collectibles directly to collectors and fans alike.
Some of the past year's iterations have been themed around the cities the All-Star Game has been played in. In 2009 the game was held in St. Louis so FOCO created an "Arches on Parade" program to reflect the famous arches of St. Louis. Similarly, in 2014 Bobbles on Parade became "Peanuts on Parade" to honor the creator of the Peanuts comics Charles Schulz, who grew up in Minneapolis, which is where the 2014 All Star game was played. When the All-Star game came to Citi Field in 2013 FOCO fittingly created "Apples on Parade."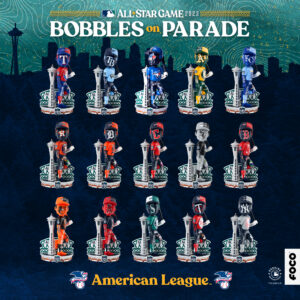 Like all FOCO bobbleheads, each one is handcrafted, and hand painted, so no two are exactly the same. Each retail for $70 and the bobbleheads stand at approximately 7ins tall, making these the ideal addition to any collection at home, or any desk at work or school. Each one is officially licensed by Major League Baseball and are individually numbered out of a limited quantity.  Like all FOCO's bobbleheads they are handcrafted, and hand painted so no two are exactly the same. Preorder a Bobbles on Parade from the Dodgers or another team here!