I've always loved when art and baseball combine. The two are both great on their own but when they come together it can be magical. Artist S.Preston has brought Baseball, art, and iconic animated character Bugs Bunny together for a pretty unique piece.
He's well known for his sports inspired pop art including his minimalist MLB ballpark series. Now he's launching an all-new series called MINIMALIST BASEBALL BUGS––MLB EDITION. This series is an official collaboration with MLB™ and Chuck Jones Gallery, featuring quirky sets of wall art for all 30 MLB teams to get fans excited for the long-awaited return of baseball and the 80th Birthday of Bugs Bunny, both taking place later this month. These prints are a fun way for pop culture and baseball fans of all ages to show their pride; perfect for home, office, or kids' room decoration. Looney Tunes is celebrating their 80th birthday and the iconic character is what has inspired these cross-licensed prints featuring Bugs Bunny in all 30 MLB uniforms. He's in the middle of a wind-up and in the one shown here is wearing Dodger Blue. You can get them in all 30 MLB uniforms.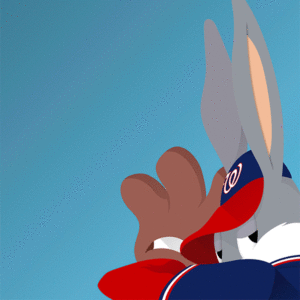 I recently sat down virtually with the creator S. Preston to discuss the artwork and talk about his creative process. We talked about how he came up with the idea and which MLB team he likes to follow. Check out the interview and press release below.
S. Preston, a nationally known illustrator, is melding sports and classic cartoons with the debut of officially licensed MINIMALIST BASEBALL BUGS – MLB EDITIONprints, in collaboration with Chuck Jones Gallery™ and MLB™. Inspired by the Looney Tunes episode "Baseball Bugs," these brand new, cross-licensed prints are available for purchase on July 16, featuring the iconic Bugs Bunny representing an MLB team as he winds up for the perfect pitch.
MINIMALIST BASEBALL BUGS – MLB EDITION will be available in limited quantities of 100 variants per team, with an MSRP of $80.00. For more information or to reserve your limited edition print early, visit https://sprestondesigns.com/collections/baseball-bugs-team-variants
LIMITED EDITION TEAM VARIANTS
Character: Bugs Bunny
Digital print on museum-grade archival paper.
Certificate of authenticity, embossed, hand-signed and numbered by the artist.
Optional: black wood frame, white double mat and UV, anti-glare plexiglass.
Medium Print – Limited Edition of 100
Print size: 14×20 inches
Image size: 12×18 inches (with white border)
Frame size: 20×26 inches
Large Print – Limited Edition of 10
Print size: 24×36 inches
Image size: 20×30 inches (with white border)
Frame size: 27×39 inches
1. How did you come up with the idea to mix the iconic animated character and mlb?
Being a sports fan doesn't mean you're just a sports fans. Me?  I love sports, but I also love cartoons, comic-con, movies, and lots of other things too.  I think that's why we like mashups, like our favorite singer covering our favorite song.  Or in this case, a cartoon character in our favorite jersey.  If the art is done right, it tugs two different heart-strings at the same time which is what a mashup (and art) is meant to do!
2. Where did you come up with the inspiration?
The last 4 years, I have been traveling to different sports events drawing the #ballparkPrincess series which is Disney Princesses in different jerseys.  I would bring my paper and pencil into the stands, share my art on social media and giving them to the fans I meet at the ballpark.  I've visited over 60 different stadiums and have drawn and given away over 200 original drawings. I'm not Disney licensed (yet) but I was lucky enough that the folks at the Chuck Jones Gallery (the creator of Looney Tunes) saw my work as an artist and the impact my artwork had on sports fans.  One thing lead to the next, and instead of Disney Princesses I was drawing Looney Tunes characters!  Licensed by both WB and MLB!  That's pretty cool!
3. How did you get started in creating such unique artwork?
My art career started drawing ballparks and mascots.  It came out of an idea that came off the side of my desk and next think I know I was licensed by Major League Baseball and many other leagues.  I ended up quitting my job and focusing 100% on my art and never looked back. I've been luck my artwork has opened a lot of doors including meeting players, executive and owners of teams. I've attended the last 8 All-Star Games and have witnessed the last several World Series.  In fact, my favorite memory is receiving a call from Cooperstown who asked me to donate some of my artwork into the Hall of Fame and made me a lifetime member!
4. Have you always been interested in art? When did you first start creating art?
Yes!  I love art but also love sports.  I always say in high school, the jocks, artists and nerds never hung out together, but I was all three.  I really wanted to be a professional athlete but like most of us, it was never came to pass.  It took me quite some time in life to realize that I should mix my love for sports and art together, so when I did, some amazing things have happened.  At the end of the day, art is about expressing the world around us. We think art as flowers, or buildings or landscapes, but as sports fans, it's what we see on the field.  That's our passion.  That's our art.  It's my job as the artist, to capture that passion and express it in a way that is meaningful for you and me as fans.
5. Did you watch any baseball as a kid? Who was your favorite team and player? Why?
I'm Canadian so I played and watched hockey.  But as the years went by, I started catching myself turning the channel from the hockey game to the Blue Jays game more often than not.  I'm now a big, big fan of both sports.  I grew up a Blue Jays fan – mostly from the 92 and 93 World Series. But I can root for any team since I'm a fan of the game.  Living in SoCal for the last 8 years, I do love to visit Dodger Stadium – it's an underrated ballpark and the only one of it's era still remaining.  I actually don't really idolize players.  Strange I know.  There's one exception though.  I have an art gallery in Anaheim, and I only have one signed baseball in the whole building.  It's Jim Abbott.  If there's one person to admire, it's the perseverance that he brought that proves that anyone can make it if they try.