Make room on your shelves for FOCO's latest bobblehead, their Freddie Freeman Dodgers City Connect Bobblehead. The bobble depicts Freddie in an action pose ready to crush another homerun, while he is sporting the clean dark blue City Connect jersey. He stands atop a field themed base with his name displayed proudly in front.
Up to this point in the young season, Freeman has been everything the Dodgers would hope he would be. While he's only hit 3 home runs, he has an impressive slash line of .323/.400/.525 being one of the key contributors to the teams early season success. But the stats don't tell the full story of what makes Freeman such a great player. His leadership skills in the club house can't be quantified, and his experience in high leverage situations make him the perfect fit for a team that's on the verge of establishing a dynasty.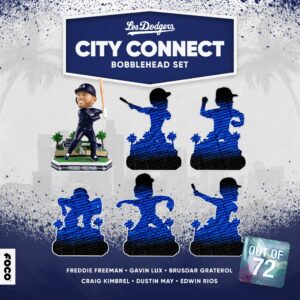 The bobble from FOCO is limited to just 322 individually-numbered units and retails for $65. It is handcrafted and hand painted so no two are exactly the same. It stands at 8in tall making it the perfect item for your shelf at home or on your desk at school or work.
FOCO released a line of City Connect bobbleheads last year that featured more then a dozen players. Freddie Freeman marks FOCO's first 2022 City Connect Dodgers Bobblehead. There will be 5 other players launching throughout the season. For a limited time you can buy the whole set of Dodger's City Connect Bobbleheads but they're limited to just 72 pieces so don't miss the chance to get yours. You can buy the set here.