Former Dodger's manager and hall of famer Tommy Lasorda has never been a man of few words. When a man like Tommy wants to say something, you will hear him. We'll also stop and listen whenever he opens his mouth. Tommy has had one of the most successful and passionate major league baseball careers in the history of the sport. Tommy has seen and done everything.
He was a pitcher, coach, Scout, minor league manager, major league manager, executive, general manager, and ambassador. Tommy's hall of fame career spans decades, all spent with the Dodgers. If there is anyone who bleeds Dodger blue forever, that's Tommy for sure.
Tommy is most known for his long tenure as Dodger manager. Tommy managed for 20 years and during that time won seven division titles, four National League pennants and two world series championships. All total Tommy won 1,599 games as Dodger manager. To cap off his incredible managing career, Tommy led the 2000 U.S. Olympic baseball team to a gold medal. Tommy has gone on to become one of baseball's greatest ambassadors as he showcased his uncanny ability as the ultimate motivator.
Tommy may have been the greatest manager in Dodgers history, but let's not forget that he is also a man with interests outside of baseball. Inside the diamond may have been Tommy's life, but outside the diamond he enjoys many other passions. Everyone knows that Tommy is a lover of fine Italian cuisine. Tommy also loves a good glass of wine.
I'm pleased to announce that Tommy and his family have started a new endeavor. Tommy and his fam have created their own brand of wines called Lasorda Family Wines. I not only got the chance to taste, but also virtually sat down with Tommy and his nephew David to discuss the new wine venture and mix in a few baseball questions as well.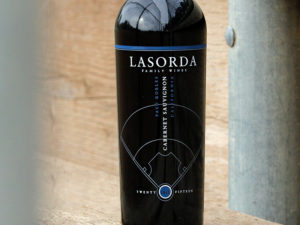 Chardonnay Monterey
A crisp Chardonnay fermented in neutral french oak to show the true nature of this grape. Lily, lemon grass and fresh citrus bouquet is followed by a bright mouthfeel of honeydew melon and asian pear.
I think I liked the Chardonnay the best. It's light tasting but full flavored. You can taste the fruit but it's not overpowering. It's sweet, but not overly sweet. It's very good. Perfect for a hot day at the ballpark, or at home on a warm night. Apparently the grapes were handpicked in the cool of the morning and were also aged for seven months before bottling. It's super smooth.
Cabernet Sauvignon Paso Robles
A full-bodied Cabernet Sauvignon exudes classic black currant fragrance with dark chocolate, raspberry and cedar. The rich mouthfeel is fruit driven with toasty oak, cassis and hints of boysenberry with a finish so long it will take you into extra innings.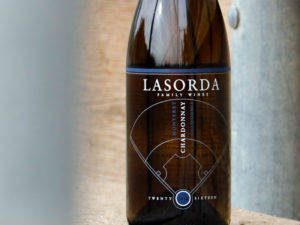 LADR: How did you come up with the idea to make your own wine? What was the inspiration?
Tommy: Much of the inspiration stems from my father, Sabatino Lasorda, and our family's Italian heritage. I was actually introduced to the art of winemaking before I ever put on a baseball glove. My father was an Italian immigrant from the small town of Tollo in the Abruzzo region and had some experience with winemaking. Each year he would produce his own homemade wine to share with family and friends. Some of my earliest memories with my father were helping him press grapes and rack wine. So the motivation behind Lasorda Family Wines is in many ways the same motivation my father had many years ago. We wanted to create something special that could bring together friends and family.
LADR: What's Tommy's favorite type of wine? Red? White?
Tommy: "Italian and California Reds. Varietals like Sangiovese, Barbera, and Cabernet Sauvignon. Especially the Lasorda Cabernet Sauvignon.
LADR: What was the toughest game or series you ever managed?
Tommy:"There isn't a particular game or series that comes to mind… but I would say any time we played the Cincinnati Reds. In the days of Pete Rose, Joe Morgan, and Johnny Bench, those were always tough series for us. It was a battle every game."
LADR: Did you enjoy pitching or managing more, and why?
Tommy: "That's a great question, and a hard one to answer. But I would have to say managing. I loved the feeling of being in control and getting to run the ball club how I wanted. I also loved the close relationships I developed with my players. Some of those guys are still like family to me."
LADR: Is there anything during your playing or managing career that you wished you had done but never did?
Tommy: "The only thing I regret during my years managing were those days where you brought in the wrong guy and then ended up kicking yourself about it, wishing you hadn't made that call. But any manager is going to experience that feeling, it comes with the game."
LADR: Who was the most memorable Dodger you played with or managed?
Tommy: "There are two guys that come to mind. In my playing days it was Pee Wee Reese. I loved that guy, and everybody that knew him loved him as well. He was my all time favorite. He was one of the most genuine and compassionate guys I ever had the pleasure of knowing. As a manager, it would be Kirk Gibson. That guy was unbelievable. Never met a guy with such intensity and spirit. By far the most memorable personality I experienced in the clubhouse.
It was such an honor to speak with Tommy and David whether that be via person or virtual/email. It was also an honor to share in their new passion. To say that it is a new passion would be false as Tommy and his family have been lovers of fine wines for many years now. The wines are great and the packaging and artwork of the wines themselves are intricate and beautiful. Not only will you enjoy the wine with your meal, you'll also enjoy the unique bottling.
Act fast though because these wines will sell out quickly. You can order through the Lasorda Family Wines official website here. If you have any general questions or inquiries or would like to drop them a line, you can do so here. If you are in the town of Paso Robles, which is where the wine is made you can stop in on the weekends for a tour and special tasting. You can find that info on their website as well.