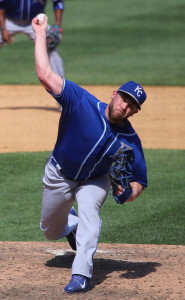 We are a couple of weeks from spring training and it appears that the Dodgers are comfortable with the collection of talent that they've assembled at this point, with the exception of a darkhorse utility infielder making the final 25 man roster, and the bullpen.
I'll look at the candidates for utility infielders and if any fit for the team, but fixing the bullpen should always be a priority, and while there are some options on the trade market that might be worthwhile, there's no shortage of potentially useful relief arms to be had in February.
lol.
I'll be as legitimate as possible with a relief options list made in February:
He's a potential nightmare on a team with a Jansen already on it, but Janssen was a stellar reliever as recently as 2013 where he served as the closer for the Blue Jays posting a 2.56 ERA and a 2.74 FIP. Injuries have limited his effectiveness recently as he's posted a 4.41 ERA/4.11 FIP split since the beginning of his 2014 season. The strikeouts dipped nearly 3 per 9 from when he was a dominant force in the back end of a bullpen, so this isn't to say that he's a lock to regain the form he had in Toronto. The saving grace for him might be through the all star break he had a 3.12 ERA paired with a 2.98 FIP, not to gloss over his unsightly 4.30 xFIP that normalized over the latter half of the season. However if the Dodgers feel that they can pick up some good innings out of him, he might be a worthwhile sign.
Morales pitched for the Royals and was actually on a world series winning 25 man roster. Baseball is funny sometimes. Morales limited left handed batters to a .194/.250/.320 which isn't that far off from his .205/.288/.327 triple slash line given up to same handed batters. He's only 30 years old and given that Luis Avilan is a LOOGYINO (LOOGY In Name Only), and the fact that J.P. Howell always needs help down the stretch, Morales looks like a useful pitcher, especially when he's not in Coors Field.
All of the other options are marginal (Burke Badenhop), old (Neal Cotts, Matt Belisle, Randy Choate, Joe Nathan, Rafael Betancourt) or hardly worth mentioning.
But there's the possibility of
Holland, unlike proven winner Franklin Morales, didn't get any outs in the 2015 world series because Greg Holland blew out his elbow last year. Before that he one of the most dominant 2 season stretches ever for a relief pitcher, posting a 1.32 ERA with a 1.59 FIP over 129 innings across 2013-2014. It says something about his (maybe former) teammate Wade Davis to where Holland wasn't the only reliever being talked about on his own team, but 2015 took a sharp turn, he tossed 44 innings of 3.83 ERA ball with a 3.27 FIP. His K/9 dipped more than 3 men per 9 and his BB/9 nearly doubled from 2.89 to 5.24.
It should be noted that he pitched a decent chunk of 2014 with a torn UCL
Yost thinks Holland likely tore ligament last August. So Holland pitched all October & saved 32 games in '14 w/ a damaged arm. Impressive.

— Andy McCullough (@McCulloughTimes) September 24, 2015
And that became an issue late in 2015, what remained of his UCL finally gave out and he was sidelined on September 24th and missed the rest of the season. This means that there's no chance of him pitching in 2015, much less at a high enough level to be a meaningful contributor on a contending team.
Holland was unquestionably an elite arm, those arms are far more likely to reach the level of dominance they had prior to Tommy John Surgery. Any deal with Holland will have to be a multiyear deal with a 40 man spot guaranteed. I'm not positive that he will get an offer from the Dodgers because I imagine that the Dodgers will like to include a team option somewhere to protect themselves against Holland never pitching again, however arms of his caliber are rarely available on the market.
Also locking Holland up to a long term deal could protect the team from Kenley Jansen's impending free agency after the 2016 season. Heck yes the Dodgers should lock up Kenley, but Holland would be one of the few pitchers in the game that, when healthy could provide late inning stability to a team losing Kenley Jansen.
There are several reasons to give Greg Holland a multiyear deal, perhaps of the 2 year variety.
I understand if none of these names provide much excitement for the 2016 team, but there are useful arms, some with some decent upside, one with enormous upside that this new regime appears to value.