The Cubs won the first game this weekend. The Dodgers took the second. Here's how the rubber match of this playoffs-preview series played out. It was close!
1st inning
Jon Lester struck out the side.
3rd inning 
Brock Stewart struck out the side. That gave him 7 Ks.
Dodgers
Brock Stewart got his first ML single!
4th inning
Scoreless for Stewart
Dodgers
Two runners on. Kiké hit into a DP to end the inning.
5th inning
The Cubs threatened for the first time. Men on second and third with two out. Stewart got a pop up to end the inning.
6th inning Still 0-0
Stewart done. Jesse Chavez in…but why?
7th inning
Grant Dayton in. One walk, otherwise, job done.
8th inning
Andrew Toles HBP. A throwing error and it was two on. The Cubs walked Corey Seager, loading the bases.
Two out for Adrian Gonzalez. He hit a little grounder to third, but because of the shift against Gonzo, the second baseman was late to the bag. Everybody was safe and Toles scored!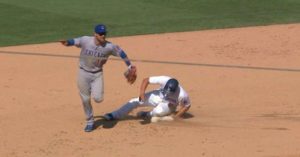 Hold everything. Replay review. SAFE by an eyelash. Dodgers up 1-0
9th inning 1-0
Kenley Jansen vs Cubs
Jason Heyward: F9
Javier Baez: 6-3 on a great throw by the ROY.
David Ross
: K swinging
Dodgers Win! 1-0
Brock Stewart was straight up dealing today. His fastball had killer movement that reminded me of Darren Dreifort. At one point Stewart struck out six in a row.
Again I ask: Why does a Dodgers pitcher who is doing well get pulled automatically after 5 innings?
Congrats: Brock Stewart got his first ML hit today. Maeda, Stripling and Urias all tossed Wins when they got their first ML hits.
Kudos for the pen: They (Chavez, Dayton, Blanton, Jansen) kept the Cubs scoreless over the last four innings. Jansen stepped up and closed the game with authority.
Brock Stewart went 5 innings with 2 hits, 0 runs, 2 walks, 8 Ks.  ERA 7.94
Team with RISP: 0 for 5