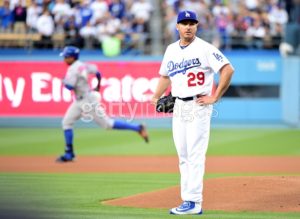 Scott Kazmir's Dodger career has gotten off to a putrid start, there's no getting around that. We've seen him pitch 7 starts, and after a near perfect start, this has happened:
scott kazmir's FIP this season 5.56 scott kazmir's FIP in 2010 the season preceding his exit from baseball: 5.56

— a-dri-an (@marrnotmaher) May 11, 2016
He's been below replacement level thus far and has been the nightmare situation for a Dodger rotation that needs stabilizing. His velocity is down a mile an hour, his command has been putrid (he's grooved too many pitches), last season batters swung at 30.2% of pitches outside the zone in 2013, 30.8% pitches outside the zone in 2014, 31.4% of pitches outside the zone lase season, and 26.3% of pitches outside the zone this season.
This is a problem, and seemingly correlated to the swings and misses on his pitches being down. His release point is lower this season than it was the previous two seasons when he posted 2.8 r9WAR and 3.6 r9WAR, respectively.
-now it should be noted that he succeeded with a low release point before, back in 2013 his release point was lower than it was even this season, however his performance going in the tank makes me think that something is going on, perhaps it's an injury, perhaps it's his mechanics, I wish I knew!-
But his poor performance could potentially have an adverse affect on future teams because that 3 year, 48 million dollar deal that he signed this offseason has an opt-out after this season! The money on this deal is spread out evenly so there is a cool 32 million dollars at stake depending on his performance.
We ran into this dilemma with Zack Greinke, whether we should root for Greinke to opt out (which probably supposes great production) or whether we should root for him to opt in (which is probably contingent on an injury or turning into a pumpkin). Greinke ended up doing the former which was great because he performed great! -Lets not talk about the events that followed-
BUT this a similar situation with Kazmir, we should want Scott Kazmir to opt out, if he does, then the team would have gotten their money's worth, if he opts in it's likely because of injury or performance issues, and at least one of those ring true at this point, we'll see about the second one. None of the indicators look good, heck even his xFIP which Kazmir generally outperforms sits at 108, 8% above the league average.
I don't exactly know what's wrong with Scott Kazmir but the Dodgers are stuck with him until they aren't and if the advanced level indicators ring true, then the Dodgers might be stuck with him for a long time.