Smart & Final has a fun challenge for you! Many people don't know this — but you actually can bring your own food items to a Dodger game! To promote their selection of delicious and easy game day essentials, Smart & Final created their own game day check-list (see attached). We challenge you to create your own!
(The Contest is now over. The winning number is 57! Congratulations Bluefan4life! You've won. I'll be emailing you with details on how to claim your prize and tickets! Thanks to everyone for playing. We'll have more contests like this in the near future.)
Smart & Final, the official grocery partner for the LA Dodgers, is doing a giveaway package to the highly coveted Dodgers vs. Yankees series at Dodger Stadium. One lucky winner will receive the following giveaway package:
Two reserve level seats to the Dodgers vs. Yankees at Dodger Stadium —winner can choose the game to attend on either August 23, August 24, or August 25
A $50 Smart & Final Gift Card
A Dodgers picnic blanket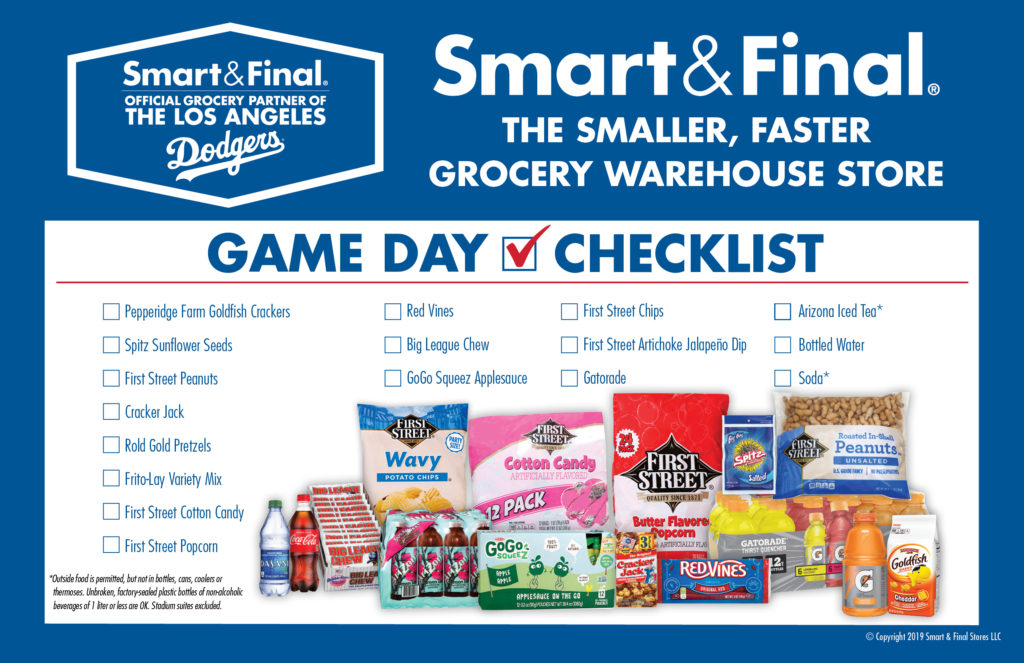 What kinds of food would you bring into Dodger Stadium? What would your Chavez Ravine personal Dodgers game day menu be? Smart & Final has you covered! As mentioned above, Smart & Final is having a massive ticket giveaway for the Dodgers/Yankees series in August and LADR has all the details and the opportunity to win!
Contest Details
In order to be enrolled in the giveaway and have a chance to win, all you have to do is post a number between 1-99 in the comments section below. We will be doing a random drawing to determine the winner. Whoever gets closest to the winning number without going over wins the contest and will receive this awesome Dodgers package. It's as simple as that!
For the record, the winner will receive two reserve level tickets to one of the Dodgers/Yankees games between August 23-25. A 50 Dollar Smart & Final gift card, and a Dodgers picnic blanket. You decide which Dodgers/Yankees game you want to go to and LADR and Smart & Final will make it happen. It costs nothing to play. Again just comment below with a number between 1-99 to have a chance to win!
The random drawing will be held on Monday August 19, so in order to participate you have to have your comment in by Sunday August 18. We'll notify the winner on Monday August 19. So check LADR, twitter and Facebook for continued updates.