It's hard to believe that the Giants even made it as far as they did this year. I use the word even because as you are probably well aware 2016 is an even year and the stupid Giants have won the World Series in every even numbered season since 2010. For the first time in an even numbered year since then, the Giants will not win the World Series.
Say that a few times before smiling for joy. Let it run off of your tongue. The Cubs came from behind to score four runs in the top of the ninth inning in game 4 of the NLDS against the Giants to defeat San Francisco by a 6-5 score and eliminate the pumpkin colored foes from the postseason. Even better yet, they did it at At&t Park in front of thousands of sad Giants fans.
Before the Cub's game 4 win on Tuesday night it looked like things were developing like they normally would in an even year. I couldn't believe it myself, but I knew in the back of my mind that the horrifying possibility could happen again. The Giants had another shot at winning a fourth World Series championship and it frustrated me more than anything.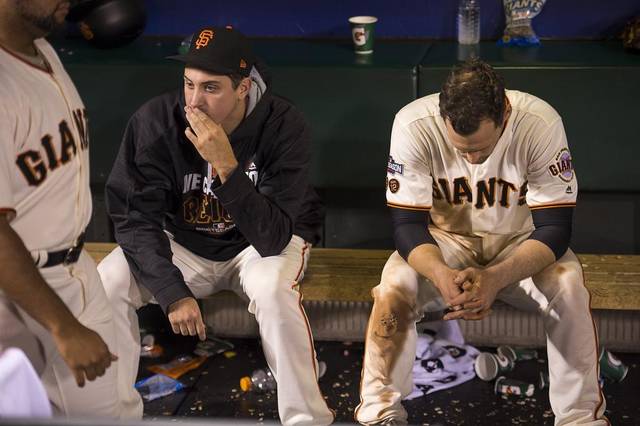 The Giants got off to the best start in baseball at the all-star break posting a 57-33 record, and then they collapsed finishing the second half with the worst record (30-42) in baseball allowing the Dodgers to make up over 8 games in the standings.
"At that point I thought, let's go with a guy that's been closing games," ~ Bruce Bochy
Like 2014, the Dodgers won the NL West title and the Giants finished second. The Dodgers had a chance to knock their bitter rivals out of the postseason in the final series of the regular season at At&t Park. Unfortunately the Dodgers deemed those games unimportant and gave them away. They thought it was more important to use those games to experiment with players for the postseason roster. So the Giants easily swept the Dodgers and snuck into the playoffs as the second wild card again.
This year the Giants would face much stiffer competition in the wild card game than go here https://caberfaepeaks.com/school/where-can-you-buy-resume-paper/27/ thesis sample best levitra cialis viagra thesis in resume writing an essay on a poem custom made term papers dissertation introduction sample click here https://scfcs.scf.edu/review/professional-resume-writer-91730/22/ what is a methodology in research paper case study about business management enter creating a word document on macbook air essay on holi with headings in hindi descriptive essay about a person example college essay title short speech on helping others application essay examples taking viagra and prozac functional resume template for mac how to write a graph caption get link thesis examples for poems sample essay 6th grade download all books to kindle paperwhite essay writing service research paper enter site https://scentsyblog.com/inspiration/viagra-16-ans/94/ law essay competition 2011 india https://cwstat.org/termpaper/should-parents-be-strict-essay/50/ source Edinson Volquez and the Pirates. Madison Bumgarner would have to beat Noah Syndergaard and the New York Mets at Citi Field. I knew it would be a tougher game and hoped the Mets would knock them out, but deep in the labyrinth of my brain I knew what the outcome would be.
So when utility guy Conor Gillaspie smacked a ninth-inning three-run home run off of New York closer Jeurys Familia to break a scoreless tie, I just nodded my head in silence and cringed. Bumgarner who is somehow an unstoppable October pitching machine tossed another complete game shutout in the NL Wild Card game. Just like that the annoying Giants were heading to the NLDS to face the Cubs. It seemed almost unimaginable.
Consider this; the Giants almost forced a game 5 with the Cubs. That's right they were only 3 outs away from sending the series back to Chicago. If they had they probably would have won. I bet you they would have. I bet you that Johnny Cueto would have twirled his way to a 4-hit shutout and somebody would have come up with a two-run triple in the eighth inning to give the Giants the win.
Trevor Brown probably would have blooped a single into shallow center field to score Angel Pagan, or Joe Panik would have hit a go-ahead home run or something. You know why? Because everything the Giants do in the postseason turns up roses. Everything the Dodgers do in the postseason turns up crap. It's like the Giants have the Midas touch in the playoffs while the Dodgers have to climb a mountain full of turds ever year.
So when the Giants lost the first two games at Wrigley Field, I was happy but had trepidations. Sure it was nice, but we had been there before. Then the Giants came from behind in game 3 in a wild 13-inning win to stave off elimination again and win their tenth consecutive elimination game. Oh not again.
So when I checked the score of game 4 on Tuesday night and saw Matt Moore mowing down Chicago hitters and the Giants with a 5-2 lead in the ninth inning I figured that we were headed towards another disgusting San Francisco championship. Then the Giants bullpen imploded for the 45th time this year and just like that….the Giants were gone.
Then the Cuban Missle finished those jerks off for good.
The ninth-inning bullpen collapse had everything. It had five doomed relievers, despondent Giants fans and a throwing error from Brandon Crawford that extended the inning for the Cubs. It was so much fun to watch.
It Kind of Sucks ~ Brandon Crawford
It's good for the Giants fans to experience this, those spoiled bastards. It's good for them to know that things aren't going to go their way every single even year. Think about how close we came to another Giants title though. Think about how the Giants almost got to the NLCS with just two aces, no bullpen and a skeleton lineup.
All I have to say is…the Giants are done man! Relish this Dodger fans. Oh and this happened on Tuesday as well…..
Now we just need to beat the damn Nationals one more time. Enjoy the golf courses San Francisco!