Andre Ethier fouled a pitch off his right shin in the fourth inning of today's game against the Arizona Diamondbacks. He crumpled to the ground in obvious pain, and was quickly joined at the plate by Dodgers' trainer Neil Rampe and manager Dave Roberts.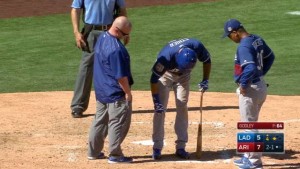 Ethier finished the at-bat and earned a base on balls. He was quickly replaced by pinch runner Rico Noel. Afterward, Ethier could not walk to the Dodgers' clubhouse, and he was carted off the field for x-rays.
Manager Roberts has been grooming Ethier to be one of the Dodgers' lead-off batters, and he has responded well in that role. Today was Ethier's second start in a row in the lead-off spot. Overall, he has put in an exceptionally good spring, batting .435, with a two-run homer against the White Sox three days ago.
Ethier had been continuing that spark plug clip this afternoon, singling up the middle on the first pitch of the game. He later scored from second when Chase Utley singled.
Roberts will probably use a platoon of Scott Van Slyke and Carl Crawford to replace Ethier in left field until he can return.
Right around 7 p.m. the Dodgers released a statement that Ethier's x-rays were negative and he will be listed as day-to-day with a contusion on his leg. I'll bet that's one heck of a bruise he's got there.
(Thanks to reader Bobby for tipping me off about the injury update)