The Dodgers squandered a boatload of scoring opportunities on Saturday in their 4-2 loss to the Brewers at Miller Park. On Sunday afternoon it was the Brewers turn to waste early scoring opportunities as the Dodgers crushed the Crew 11-2 in the series finale. Milwaukee loaded the bases in the first two frames against a shaky Alex Wood but only scored twice.
On the other side, the Dodger bats came to life against opposing starter southpaw Brent Suter who gave up six earned runs on eight hits over three innings. Suter eventually had to lead the game after three innings with forearm tightness. That's never a good sign. A good sign for the Dodgers was their impressive hitting on Sunday. The boys in blue scored 11 runs on fifteen hits as Matt Kemp led the way with two home runs and a 3 for 3 performance. Kemp has always hit well at Miller Park, (checks books) indeed he does. According to the numbers Kemp has now hit ten home runs and driven in 33 runs in 176 plate appearances at Miller Park. Every Dodger batter had a hit today, with Kemp and Logan Forsythe each getting three knocks. Even Austin Barnes had a hit. The Dodgers were 4 for 15 with runners in scoring position.
Unfortunately Justin Turner (starting his first game since July 11) had to leave the game with groin tightness. Turner had started the game and knocked in a run with an RBI double. Max Muncy started at second with Chris Taylor in left and Enrique Hernandez in center. Hopefully Turner can get healthy soon; in the meantime the Dodgers may have to start playing Manny Machado at third because Muncy made another error at third after replacing Turner.
Dodgers  11 15 2
Brewers  2 6 1
WP-Wood-6-5
LP-Suter-8-7
SV-Ferguson-2
HR-Kemp-16-17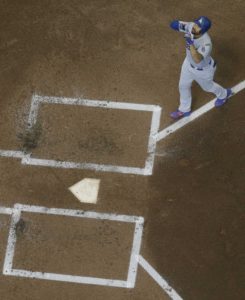 As I mentioned above, Wood began the game more wobbly than a spinning top. He loaded the bases in the bottom of the first after a walk and two singles. After Ryan Braun's line out to Machado, Travis Shaw's two-run single put the Brew Crew up 2-0. It looked like Milwaukee was going to knock Wood out of the box before our beers were warm. Wood would either settle in or pull off one of the greatest tightrope acts of our time. Because he got Hernan Perez (who would later pitch two scoreless innings) to ground into an inning ending double play.
In the bottom of the second the Brewers juiced the base again on an error from Logan, a single and a walk. However wood wiggled out of it again by getting Braun to ground out and stranding five runners over the first two innings. Wood didn't have any problems after that, turning in a quality start. Wood allowed two earned runs on five hits over six innings with three walks and four strikeouts. He's now 6-5 on the season with a 3.87 ERA.
The Dodgers bats are capable of putting up crooked numbers and boy did they ever. The Dodgers scored five runs in the second inning and one more in the third. Matt Kemp got the fun started with a majestic home run (as Joe Davis called it) over the center field wall to get the Dodgers on the board. Hernandez and Logan singled and Taylor followed with a bloop two-run single to give the Dodgers a 3-2 lead. Back-to-back RBI doubles from Machado and Turner put the Dodgers up 5-2. Kemp hit his second home run in the top of the third to put the Dodgers ahead 6-2.
The Dodgers put up another five spot in the fifth frame. Cody Bellinger tripled, Muncy reached on a funny missed catch error from Braun and Kemp singled into left. Consecutive RBI singles from Logan and Barnes made the score 10-2 Dodgers. Later in the inning the Dodgers would add another notch on a sacrifice fly from Taylor to go ahead 11-2.
Once the Dodgers were leading by nine runs, the Brewers sent infielder Hernan Perez to the mound in the top of the seventh. Perez had pitched a couple of other times before and was bringing the heat, pounding the strike zone with 87 MPH heaters. Perez tossed two scoreless frames allowing just a hit, a walk, a hit batter and striking one. His lone strikeout was Alex Wood.
Even Caleb Ferguson got in on the fun, tossing three shutout innings to pick up a rare three-inning save. This is his second save of the season. Ferguson gave up only one hit, struck out four and walked one. It seems like Ferguson has found his stride as a long reliever. According to Eric Stephen he's been fantastic since being moved to the bullpen several weeks ago.
3-inning saver Caleb Ferguson as a reliever this season: 16 IP, 20 K, 2 BB, .200/.238/.317 batting against

— Eric Stephen (@ericstephen) July 22, 2018
The Dodgers (55-44) now will get on a plan to fly to Philadelphia For Chase Utley's final homecoming to begin a three game series starting on Monday evening. They'll hold onto their slim 1.5 game National League West lead which depends on the outcome of the Arizona/Colorado game. Ross Stripling will counter former Dodger Zach Eflin in the series opener in the city of brotherly love.