This was a nail-biting type of game and as Turner connected on the three run shot to win the game.  My mind went back to when I was a kid in 1988 remembering how Kirk Gibson rounded the bases on his walk-off 29 years ago. Rich Hill faced Dodgers nemesis Jon Lester in game 2 of the NLCS.
The Dodgers wanted to keep the home field and head to Chicago knowing possibly that the next three will be in the windy city. The game turned into a pitchers duel. In the bottom of the third the Dodgers had an opportunity to get on the board. With two outs, JT walked and then Cody Bellinger doubled and Turner went to third.  Kiki Hernandez flied out to end that threat.
In the top of the 5th, Addison Russell hit a solo shot and the Cubs took a 1-0 lead. In the bottom of the 5th with the Dodgers getting Lester's pitch count up. Charlie Culberson hit a lead off double. With two outs Justin Turner hit a single to tie the score.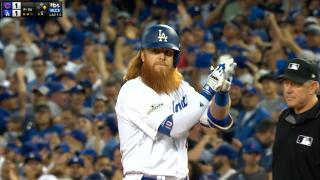 Jon Lester was burned and taken out of the game. The rest of the game was a bullpen game. Brandon Morrow came in and shut the Cubs down in the 6th and 7th inning. The Dodgers bullpen has been shutting teams down. We know the Cubs bullpen has to be gassed with that Five game series against the Nationals.
Josh Fields and Tony Watson shut down the Cubs in the 8th inning. In the bottom of the 8th the Dodgers had a chance to take the lead. Two men were on base and then Austin Barnes hit into a double play.  Kenley Jansen then came into pitch the ninth. This game was one of those games were if the Dodgers lost, then the momentum would swing to the Cubs with the next three in Chicago. The Dodgers have faced both Cub's left handers to this point.
In the bottom of the  ninth, Yasiel Puig walked. Chris Taylor then walked off John Lackey who was doing a lot of gamesmanship by acting like he didn't know what he wanted to pitch to Taylor. Lackey had to be scared knowing that Turner was on deck. Then Turner did something magical.
Justin Turner said "one of my first baseball memories" is watching Kirk Gibson's walkoff HR at his grandmother's house 29 years ago today

— Bill Plunkett (@billplunkettocr) October 16, 2017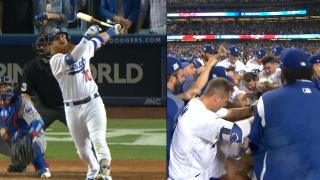 The Dodgers are undefeated in the playoffs.  Just two more wins to get to the World Series. They also needed two wins last year. I have a good feeling about this team. So its off to Chicago.