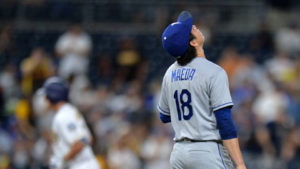 With the Dodgers and Nationals tied 1-1 they played a potentially decisive game three at Dodger stadium. The home team sent out a tired/maybe rusty Kenta Maeda and the Nationals sent out lefty Gio Gonzalez.
That's all you really need to know about this game, but I'll give you guys a recap if you really want it.
The game started out, making me want to vomit as Kenta Maeda had zero command, walking two and giving up a bloop single, throwing 28 pitches before getting out of a particularly strenuous 1st inning.
The bottom of the first would give fans some hope as Justin Turner drew a walk from ace Gio Gonzalez, and Corey Seager, the best player on the team, smashed a double to deep right, giving the Dodgers a 1-0 lead. He is a huge reason the Dodgers aren't already out of the playoffs.
Kenta Maeda appeared to exorcise his first inning woes, striking out two and getting nemesis Jose Lobaton to line out in the second inning, but the Dodgers would set the tone for the rest of the game in the bottom half of the inning with Yasmani Grandal flying out, Charlie Culberson (SOMEHOW STARTING A PLAYOFF GAME) grounded out to shortstop and Joc Pederson striking out.
Maeda couldn't get out of his way in the 3rd and final inning he tossed, giving up, in order, a single to Trea Turner, a double to Jayson Werth, a single to Bryce Harper and a home run to Anthony Rendon. Kenta is at 178.2 innings this season, his 33rd start of the season and was generally a huge success, if he doesn't make another start he'll have a great starting point for next season but he did look cooked to me.
At 4-1, facing a ton of lefties, the game didn't seem to be in reach, and going down 2-1 in the NLDS is a really terrible situation to be in.
It was mostly justified, as the Dodgers didn't put up a serious threat until the bottom of the fifth inning in which Joc Pederson singled to right field, Carlos Ruiz followed that by hitting a huge home run to left field putting the Dodgers right back in it in with the score being 4-3.
It is good to see Ruiz pay off because that calms down a bit of the narrative surrounding Yasmani Grandal and not having AJ Ellis catching Clayton Kershaw.
So lets say something about matchups…
Matchups really dictate any sporting scenario, the Dodgers this season have a lot of left handed hitters on the roster, meaning that if a team wanted to, they could load their bullpen up with left handed relievers and just shut this team down.
Well, that's basically what transpired today, after the 5th inning the Dodgers faced Sammy Solis and Oliver Perez, who gave the Nationals two combined shutout innings, allowing two hits, striking out two batters. To be fair, 3 runs against lefty pitching through 3 innings is an… okay result?
The problem is that the offense as a whole sucked against righties also, Shawn Kelley and Mark Melancon (Future Dodger?) both spinned 2.2 perfect innings, Kelley striking out 3 out of the 4 batters he faced.
The bullpen for the most part pitched well for most of the game, Pedro Baez who will certainly get a lot of looks next year in high leverage situations pitched 2 scoreless innings with Grant Dayton, Josh Fields, Luis Avilan, and Joe Blanton, relief ace struck out 3 out of the 4 batters he saw.
Kenley Jansen, in a cruel twist of fate, aided by a Josh Reddick gaffe in right field gave up 4 runs getting only one out. He gave up a home run that went approximately 800 feet to Jayson Werth. We can have discussions about whether this was Kenley Jansen's last appearance in a Dodger uniform, and whether he'll be back next season but there is still *apparently* a game tomorrow and he will need to get right in case the Dodgers are in a position to extend the series to a fifth game.
I have become apathetic, and at this point this series isn't primarily a failing of the front office. At some point the players have to perform like what they have been their entire career. At some point the players have to play like *pardon this* not-dogshit. Yasiel Puig has to show up in a playoff series, Yasmani Grandal has to hit in a playoff series, Adrian Gonzalez has to produce like he's historically produced!
We should put more than half of the blame on the players for not producing, Clayton Kershaw has to string together dominant starts, Rich Hill/Zack Greinke have to come through in multiple series, Brett Anderson/Kenta Maeda need to pitch well, otherwise they deserve the labels they get, quite frankly. I want to be confident in my closer shutting down a team in the postseason. And what if the chances stop coming? A team rarely makes it to the playoffs, and many other teams make it count, the Dodgers failing to make a world series would set the record at most consecutive postseason appearances without making the fall classic at 10. This is not good!
Regardless one thing that I learned about the playoffs since following the team, is that your weaknesses will get exposed. This year it's left handed pitching and that is really getting exposed, maybe not at the level that the bullpen was last season, but regardless it's a weakness that this team was ill equipped to deal with. That is a shortcoming that this front office should have fixed further.
With that said. Weird things happen in a 5 game series, winning 2 in a row isn't impossible, and Clayton Kershaw starts one of those games, maybe he shows up.