On Aug. 31 Andrew Toles rose out of seemingly nowhere in Coors Field against the Colorado Rockies and hit a grand slam to put the Los Angeles Dodgers up 10-8, which led to a huge comeback victory to salvage a game in that series. The Dodgers bench erupted for the speedy outfielder. It had to be Toles biggest hit to date and could be a season altering type of hit for the Dodgers season.
It's been a pretty amazing ride for Toles to be on the Dodgers and be a key contributor for a team chasing a World Series. The outfielder's biggest asset is his speed and has proved he deserves more playing time and a spot on the postseason roster.
Toles was selected in the fourth round of the 2010 MLB Draft by the Florida Marlins and choose not to sign with them. He enrolled in the University of Tennessee and was dismissed from the baseball team in his freshman year.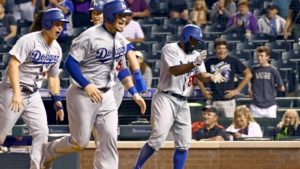 Toles was then selected by the Tampa Bay Rays in the 2012 MLB draft under Dodgers President of Baseball Operations Andrew Friedman. In 2013 he was named the Rays Minor league player of the year. Toles career then took a weird turn and he was released prior to the 2015 season due to personal issues. A year ago he was out of baseball and working at a grocery store.
Friedman kept in touch and signed Toles after the 2015 season. Toles began this season at High-A Rancho Cucamonga and matriculated to Double-A Tulsa and Triple-A Oklahoma City, combining to hit a .330 average with 25 doubles and six home runs.
It has been documented that Toles has some baggage. He was working at a grocery store last year. It has been an amazing rise.
It seems as of this moment he has overcome them and is keeping his mind on baseball. His current stats with the Dodgers are a .371 average, 3HR, 13 RBI, and OPS of .437. He has proven that he is a keeper.