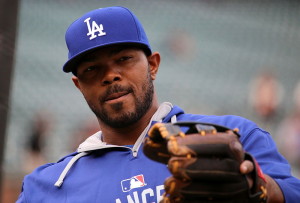 It's late January and it's a slow time unless you're an infielder on the Dodgers 40 man roster. The depth chart was shaken up with the news that Howie Kendrick is coming back on a 2 year 20 million dollar deal, which is huge news because a mere 12 days ago, the reports said that the Dodgers preferred the compensatory draft pick to Howie Kendrick. The pick would have landed in the mid-30's under the new Qualifying Offer based system and given how the new front office has done it's best to hoard young talent, the only way Howie was coming back was on a super team friendly deal which is exactly what happened.
I, admittedly was pretty "meh" about the signing initially, Kendrick is a 33 year old second baseman who doesn't really have the bat to play the OF or 1b, and doesn't have the flexibility to play any other infield position.
His defense seemed to slip a little bit last seasons and he doesn't walk a whole lot. Don't get me wrong, lots of teams would love to have a player like Kendrick; I was certain he was heading back to Anaheim because the Angels are currently starting Johnny Giavotella who I've never, ever heard of, I imagine the Yankees could have used depth if Starlin Castro continues to be one of the most inconsistent players in baseball, the Padres need productive players, the Orioles aren't totally set at second base, heck the Diamondbacks were almost a sure destination for him, the White Sox need good infielders, the list goes on and on and on, but ultimately the draft pick was so bad for his market in hindsight I bet he wishes he would have taken that qualifying offer.
And look, second baseman aren't supposed to be exciting players, they're not good enough to play around in the infield, they can't hit enough to play 1b, but they're just valuable enough to not be in the outfield.
The thing that bothers me is the fact that the total PA's that Enrique Hernandez is sure to decline, after last season I think that Kiké deserved to have a full time gig after hitting .307 with 7 home runs, and a 132 wRC+ in in 218 PA's. Granted, he only had a .592 OPS against same handed pitching in 131 PA's, which is obviously a problem however his 2014 splits against same handed pitching showed a .796 OPS against right handed pitchers. From a scouting perspective, hitting right handed pitching has always been the knock against Hernandez so questioning whether he's an everyday type of player is fair, however his career OPS against same handed pitching sits at .679, 15 points below Mark Ellis' career mark against same handed pitching.
Hitting that mark is by no means an impossibility and having everyday reps against right handed hitting could mean for improvement. Ellis was an everyday starter at second base for a long time and Ellis never had the ability to mash left handers quite as well as Enrique.
However everyday PA's for Hernandez were never going to be a thing with Chase Utley on the roster. And here is where the argument turns in favor of the Howie situation, Utley was worth 13.0 runs below average last season, after his ankle injury subsided he raised his wRC+ 20 points (!) to 84 (¡), a respectable number for a backup, but to be the primary member of a platoon? Meh. Utley also just turned 37 years old, it's not an outlandish thing to suggest that he's totally done, many speculated he'd retire after the slide that broke Ruben Tejada's leg last year.
If Utley is cooked the team is then dipping into its prospect ranks, which is code for "Micah Johnson". Micah Johnson is a fascinating prospect that appears to know how to hit a baseball very well, but I'll just say that his scouting reports sound an awful lot like Alex Guerrero's scouting reports. The best second baseman prospects are those who haven't made the switch from shortstop and Johnson is currently starting at 2b so hoping he's the immediate answer is a difficult proposition at best for him.
It appears that the team wants to keep Austin Barnes Catching full time because Yasmani Grandal cannot get through a full season healthy, and neither can AJ Ellis' knees.
At this point the team was looking at everyday PA's for Kiké which I don't believe is an absurd idea, but again, there is a strong likelihood that he doesn't figure out right handed pitching during his first time getting everyday PA's. I also understand the argument for finding the next Ben Zobrist and Hernandez is pretty close to being that.
Ultimately Howie Kendrick eases up SO much pressure on the second base platoon, considering the team doesn't have enough high end talent to make up for a black hole, this is absolutely a good thing and it doesn't hurt that Kendrick doesn't have to be a star to live up to a 20 million dollar deal heck Gerardo Parra got 27.5 million dollars, guaranteed! The Kendrick move made me feel much better about this offseason.