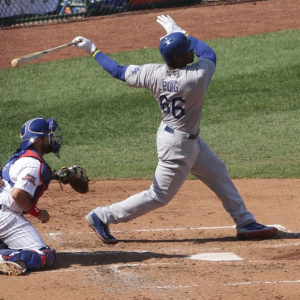 There were all sorts of nuggets at Dodgers Fan Fest, going to class after taking the Winter off means that tons of players have stories how they're going to improve this upcoming season.
Joc Pederson's story is working with Turner Ward who is trying to iron out the swing that had Joc fighting to stay at the major league level last year.
Chase Utley's appeal still hasn't been heard and he still isn't sure when it will be scheduled. This might mean that Micah Johnson will be able to tell everybody that he made the 2016 Dodgers opening day roster.
Scott Van Slyke's story is smoothing over awkward feelings over his dad saying Clayton Kershaw wants Yasiel Puig gone during the offseason.
Hyun-Jin Ryu is the first of many players to be in the Best Shape Of His Life.
And while a mechanically right Joc and healthy Ryu will be a huge boost to the 2016 club, the one player who can easily fix the problem of having little to no high end talent on the team is Yasiel Puig. So I found this quote particularly illuminating
Yasiel Puig on flipping his bat: "If I hit a home run, I'll bring it back."

— J.P. Hoornstra (@jphoornstra) January 30, 2016
Puig's first batflip in 2016 will certainly elicit thinkpieces about his regression from a maturation standpoint, but that quote was easily the most significant thing from Fan Fest. Don't believe me? April 13th, 2015 Yasiel hurt his hamstring rounding 1st base on a single. The next day, this report came out
Though acknowledging that some fans are entertained by his theatrics… "I want to show American baseball that I'm not disrespecting the game…" Puig maintained that his bat flips aren't intended to disrespect the game or his opponents… "I don't do that because I lack respect.." "I do that because of the emotions that I have"
There is a theory around Puig's success, it's that the emotion that he displays doesn't hinder his on-the-field ability but he's a better player because of it. Yasiel's production ever since that report came out dipped to .259/.324/.431 in only 281 plate appearances. This might have to do with the devastating lower leg injuries that he suffered throughout last year, but Craig Calcaterra's theory is that it had just as much to do with his commitment to assimilation in American Baseball:
Reminder: from almost exactly the moment Puig told the LAT he wasn't gonna flip bats anymore he's been hurt and/or sucky.

— Craig Calcaterra (@craigcalcaterra) October 14, 2015
Lets be clear, he did seem better at defense last year, and Farhan Zaidi did say that coming into the season his defense was at the level to contend for gold gloves, and Puig's slash line in those 281 plate appearances translate to a 110 wRC+ which means that he was 10% better than the league average. A right fielder with good defense and better than average hitting is absolutely worth having on the roster and starting everyday, heck if he played in 148 games (his career high), he would have accrued 2.8 fWAR which would have placed him 11th among Right Fielders. Not to mention that Puig is notorious for his hot streaks, when he gets going he really mashes the baseball, and there wasn't one of those last season.
Ultimately this isn't a story about Puig's adjustments, it's a story about a player who is so talented that his floor is a top 11 RF in the game, but who's ceiling is a .304/.386/.501 hitter that crushes the league with an arm that looks an awful lot like Vlad Guerrero in the outfield. Puig is at his best when he's allowed to be himself on a baseball field, and Puig's best is a generational talent and while he will never be Bryce Harper, or Mike Trout, he isn't far behind them at his peak.
The cultural assimilation game with Puig didn't work last season and while I certainly don't want to dismiss the whole idea that Puig has been an enormous issue in the clubhouse, Puig's talent is big enough to where the Dodgers have to make him work within the context of the clubhouse, I mean reporters certainly talk about Derek Jeter and Alex Rodriguez differently as far as personality goes, but Rodriguez has worked out, one way or another. A Puig who batflips is already closer to his 2013-2014 self and that's alright with me.