The MLB offseason is in full swing, and when I say full swing I mean nothing is happening. The past few seasons the lack of activity has become commonplace. So while we wait for any kind of movement to occur it's a great time to take a look at some super cool new Dodgers artwork. For this we hand the ball off to Laguna Beach Artist Dave Hobrecht and former Dodgers GM Ned Colletti who have teamed up together to create the brand called "The All-time Dodgers". Read below and check out their talented and beautiful works of beauty.
Former Los Angeles Dodgers General Manager Ned Colletti is working with Laguna Beach sports artist Dave Hobrecht at a new art company called The All-Time. They are putting their talents together to create an in-depth art book called The All-Time Dodgers that will be released in the fall. Ned is using his knowledge as an MLB executive, along with statistics and personal experiences, to create a roster of the best Dodger players, coaches, and broadcasters in franchise history. His choices range from the Brooklyn years all the way up to the present-day team in LA. In the book, he will be explaining the thought process behind every one of his decisions.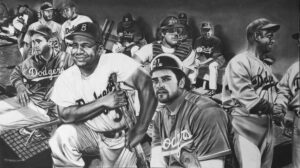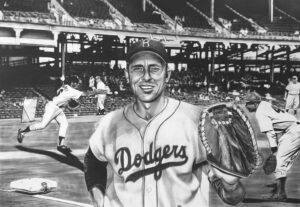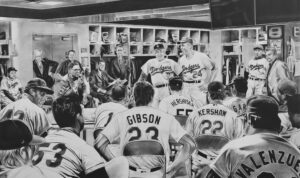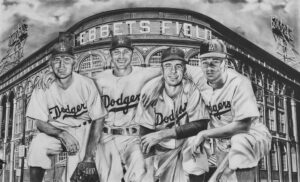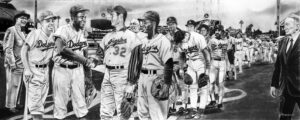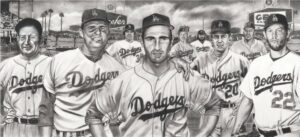 Meanwhile, Dave will be creating a total of 12 completely original, black-and-white paintings for each one of Ned's selections. So far, 8 paintings have been completed: The All-Time Dodgers' pitching staff, catchers, first baseman, second baseman, third baseman, shortstop, broadcaster, and managers. Dave's charcoal and pastel artwork combines different Dodger eras in fascinating ways. Whether it's Tommy Lasorda and Walter Alston together in a clubhouse of Dodger greats, or Sandy Koufax shaking Jackie Robinson's hand, every painting guarantees a unique combination of franchise icons. These types of scenes excel at evoking a feeling of nostalgia for Dodger fans and baseball fans alike.
Ned Colletti's writing and Dave Hobrecht's paintings form a type of art book that has never been made before. It is a one-of-a-kind project that will place unparalleled insight from a successful MLB executive next to exquisite, original artwork from one of the best sports artists in the game. Each month leading up to the book release, The All-Time will reveal a new addition to their roster, alongside a brand new painting, with the overall goal of sparking discussions and passionate debates between fans of all ages.