Dave Hobrecht and sports art masters at All-Time (joining forces with fanatics) are back again with some more incredibly beautiful and detailed Dodgers art work. This time they focus their talents on 2019 National League MVP Cody Bellinger. Check out their work below and visit their website. These guys are super skilled.
World renowned Sports Artist, Dave Hobrecht has officially teamed up with the greatest sports online store, Fanatics, and Major League Baseball to create a work of art that all fans will marvel at.  What better way to celebrate a two-time All-Star and 2019's National League's Most Valuable Player than to immortalize Los Angeles Dodgers Outfielder,Cody Bellinger, in this masterpiece appropriately named, Bellinger MVP.
Currently, Dave Hobrecht has been busy working with Ex General Manager of the Los Angeles Dodgers, Ned Colletti, on a book of The All-Time greatest Dodgers players to ever play the game of baseball.  Colletti has been working hard on the content of the book while artist, Dave Hobrecht, has been working tirelessly to create the most unique never been done before creations of art involving each great player throughout history by the position they played.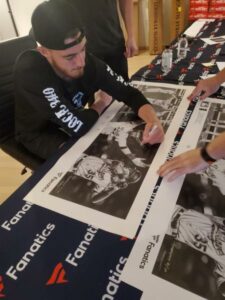 To see Dave Hobrecht's timeless sports art, go to www.thealltime.com