2016 has ended for the Dodgers. Every step from here on, is geared toward next year. Improvements are expected, and those will only happen if the organization learns from the previous summer's battles. Here's what I learned:
1. This was Adrian Gonzalez 's  last hurrah.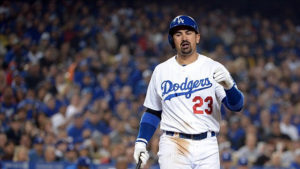 It was his last chance to make a difference as an everyday player on a World Series team. Although AGone was an iron man at first base in 2016, he wasn't able to put up his  usual big bopper numbers. Despite his and his fan's undying optimism and enthusiasm, he'll just be a year older in 2017. The Dodgers would be well served to find and rapidly groom a power-hitting first baseman to replace him.
2. It's time for Yasiel Puig to move on.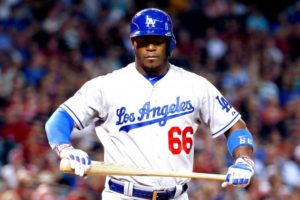 The Dodgers have dealt with his maturity issues long enough.
This season Puig was sent down to the minors because of repeated failures to focus. As he always does, he competed well against minor-league players. He was brought back up to the big club for the playoffs push, and as he always does, he gave us flashes of brilliance. The problem is, flashes are the only thing that Puig ever had, and perhaps, ever will.
Even worse, when it comes to the postseason, Puig doesn't even have the flashes. I'll bet he'll prosper in a different organization. If it was going to happen in Los Angeles, it would have by now.
3. Andrew Toles should be the starting left fielder in 2017.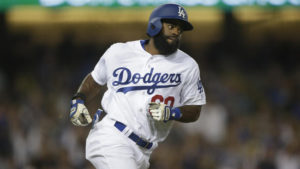 Howie Kendrick really has no business being out there, and unlike Puig, Mr. Toles has shown that he can perform consistently. Take away that horribly misplayed fly ball against the Cubs, and Toles has clearly delivered on his promise. He's a proven sparkplug and run-producer. Starting everyday will allow him to be the star he's meant to be.
4. There really is only one choice for National League manager of the year. It's Dave Roberts.

He was handed a franchise that had been to the playoffs the previous three years in a row. Making it an even four years was his biggest mission. It also became his greatest accomplishment. That said, it sure as heck wasn't easy to do.
Roberts' Dodgers were a worse team than their predecessors. The front office used swap meet tactics to build the 2016 model, and then he was told to improve on (or at least equal)the accomplishments of last season's squad.
During spring training the Dodgers lost Andre Ethier, their new leadoff hitter, to a broken leg. And the injuries never stopped coming. The biggest blow of all was the loss of ace pitcher Clayton Kershaw mid-season.
Yet nothing stopped Roberts' team. They rose up from being eight games behind the Giants to take the division.
Roberts used spit, bailing wire, and 100 pitchers in 1,000 different combinations-including some that noone had ever seen before-to lead the Dodgers to the October promised land. Indeed, Roberts' team was on the way to the Fall Classic, when the glue lost hold, and they were stopped cold. Despite a cruel end to the season, the skipper did a helluvajob.
5. The Dodgers are in an interesting period of flux. They're rapidly evolving, and are very different from the Dodgers they were just five years ago. They're changing not only as a team, but as a corporate entity and a culture.
Vin Scully is gone forever, and seemingly, so is the ability to watch the home team on television. The 2017 Dodgers will complacently allow the TV blackout fiasco to settle into another season. They just don't seem to care at all about the situation, or the fans who can't watch them.
On the field, the Dodgers will bring back the young rookies from last season, and even more farmhands are sure to make an appearance on the squad in 2017.
Although many complain about the sabremetric-heads running the front office, and supposedly controlling Dave Roberts' moves, stat-controlled baseball isn't going anywhere, and it's going to continue to rule the Dodgers. Is that the reason the Dodgers stepped even closer to the World Series this year?  They certainly think so, but I'm of the thought that relying too much on numbers ultimately hindered, rather than helped the cause.
Nevertheless, 2016 was one heck of a dodger Blue trolley ride. Spring training 2017 can't come fast enough.