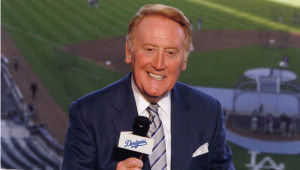 Vin Scully's retirement is near and it is finally sinking in that the legendary announcer won't be calling games after next Sunday's sure-to-be-emotional farewell in San Francisco. It was an emotional pregame ceremony which included Los Angeles mayor Eric Garcetti giving Scully a key to the city, and Mark Walter Jaime Jarrin, Clayton Kershaw, Kevin Costner, and Sandy Koufax paying tribute to the legendary announcer.
Scully of course has a way with words, as he brought the house down with a stunning speech.
Your browser does not support iframes.
Vin began his pen-penultimate broadcast at Dodger stadium stating the spectacle of his own day would be a difficult act to follow, and boy it was.
The game began with Scott Kazmir starting the game optimistic in his chances of making the postseason roster and leaving the first inning with an injury (surprise). The Dodgers announced it was due to right intercostal spasms:
Scott Kazmir exited the game because of right intercostal spasms, the Dodgers announced.

— Pedro Moura (@pedromoura) September 24, 2016
This might seem welcome news for most Dodger fans, and it would be for me if they had any depth left. But let's be real, Jose De Leon hasn't wowed since being promoted, Julio Urias is out of gas and innings, both of those things are true for Brock Stewart, Brett Anderson is a massive question mark, and we don't know if Brandon McCarthy can even find the plate, the Dodgers need fourth starter and Kazmir getting hurt just means that the Dodgers have less options to work with, not something that you want to have happen, he finishes his season with a 4.56 ERA and a 4.46 FIP in 136 innings.
meh. I hope he looks better next year, (and yes he will be back).
On the flipside, Jon Gray was heroically worse, having no control over any of his pitches, he BB'd the bases loaded in the first inning, walking Corey Seager, hitting Justin Turner in the left arm, and walked Adrian Gonzalez. The Dodgers cashed in with a Yasmani Grandal (surprise) blooper into right field that scored Seager and a scrambling Turner giving the Dodgers a 2-0 lead.
Ross Stripling pitched 3 relatively clean innings, striking out 4 while walking 2. In my opinion, the Dodgers best option might be to give him the game 4 start and have Julio Urias available to combine for 6+ innings out of both of them instead of pitching for the aforementioned 'mehness'.
Some cool stuff happened in the 4th inning, Gray's struggles were briefly mentioned but at some point he had 100+ pitches, striking out 10 batters, walking 3, and giving up 2 monster dongs to some special players.
I wasn't sure Joc was going to be a good major league player, well he's up to 24 home runs in only 453 PA's and has managed to maintain a .291 BABIP. A .839 OPS will play in centerfield and i don't think we appreciate him enough.
But also something that has not happened since 2015 happened.
Andre Ethier hit a home run at Dodger Stadium.
It was a solid dong to right field and it got me thinking, it could very well be the last Andre Ethier home run that is called by Vin Scully at Dodger stadium. It might be the last Andre Ethier home run called by Vin Scully at all which immediately got me more sad. Hell it might even be the final home run Andre Ethier ever hits as a member of the Dodgers here considering the embarrassment of riches the Dodgers have as lefty crushing OF's, but that's another post for another time and I don't want to cut too many onions here.
Josh Fields didn't help his postseason case, giving up 2 runs in the bottom of the 6th including a dinger to demigod Nolan Arenado but the bullpen limited the damage.
Maybe Yasiel Puig should draw starts against RHP? I dunno he's locked in, hitting a double in the bottom of the 8th inning.
Overall, a really feel good night for the Dodgers considering the Giants lost in San Diego bringing the magic number to a microscopic 2, so the Dodgers could clinch as early as tomorrow if the Giants lose and the Dodgers take care of business at home, take in as much Vin as you can cause he won't be here for long.