I don't want to jinx this before it's finalized, but apparently Ken Rosenthal reported this morning that the Dodgers are working on a new contract with Howie Kendrick. The news comes as a bit of a surprise considering how late in the offseason it is and since Andrew Friedman had originally said that they were satisfied with Chase Utley and Kike Hernandez.
(Update) It's official pending physical. Kendrick will get two years for a 20 million dollar guarantee. I changed the title and the poll to reflect the news. What do you guys think of the deal?
Kendrick gets $20M, 2-yr deal #dodgers

— Jon Heyman (@JonHeyman) January 29, 2016
Of course that was misdirection. However it is strange that they waited this long to negotiate resigning Kendrick. One can only wonder if he was asking for too much money and his market dried up. Or maybe he was asking for too many years. Maybe the Dodgers just waited him out until his market shrunk before getting into negotiations with him. Or it's possible the late season injuries derailed his market value.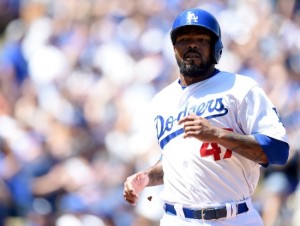 The Dodgers had offered him a 15.8 million dollar qualifying offer this winter but he rejected it in order to test the open market. If he were to sign with another club the Dodgers would receive a compensatory draft pick. Kendrick played in 117 games for the Dodgers last season and posted a slash line of .295/.336/.409 (137 for 464) with 9 home runs and 54 runs batted in. He'll be turning 33 in July.
You guys know how I feel about this. I think this is wonderful news and will only make the Dodgers considerably better in 2016. As I wrote about in one of my previous articles, Kendrick was the Dodgers top hitter with runners in scoring position last season. He's a solid player and bringing him back improves the lineup and defense. As long as the price is right, this can only help the Dodgers.
The only question remaining is how much money and how many years Kendrick will get? What do you guys think? Please participate in the poll below.

 Loading ...