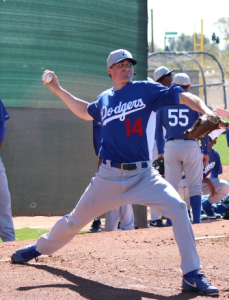 (via)
I started this post off without a title because I didn't know what to call it, a defense of Dave Roberts seems too reactionary, a criticism of Dave Roberts has been… well documented. It's hard to separate the fact that it's still early April with the fact that losing games that way is excruciating, sooo I figured I'd talk about it also. Instinctively, when Dave Roberts took rookie Ross Stripling out after 100 thrown pitches and 4 issued walks I thought it was the right call, for a few reasons:
The Dodgers Can't Really Afford Another Injury
Pitching depth is a staple around how this team has been dealt. At some point (I'd argue pretty soon) attrition can hit to the point where the replacements are no good, and the upside is non-existent. At least the 2015 Dodgers had upside through the roof, Zack Greinke pitching one of the best seasons in modern history as far as results go, and Clayton Kershaw pitching maybe the best we've seen him pitch. The upside created with these two pitchers last season were potentially the best the Dodgers have ever seen.
The options behind Ross Stripling are:
You could be excused if you look at those options and think 'nah I can do without any of those pitchers eating innings'. There's a reason Ross Stripling won the job coming out of Spring Training, and despite the general view about him not being all that good, he has the potential to surprise, his pitches and upside are better than Lee and Beachy, he has more stamina than Frias or Beachy, and in reality the Dodgers just need Stripling's outings to not be a disaster, I can understand why the Dodgers felt the need to pull him coming off of Tommy John Surgery a few years ago and only making 14 starts in the minors since then. If the Dodgers lose another pitcher it can be argued that the team is far worse off than it was last season -if it isn't already-.
Ross Stripling Looked GASSED
He admitted this later
Stripling said he was getting tired and it was 100% the right decision to remove him.

— Alanna Rizzo (@alannarizzo) April 9, 2016
But he was going into the game with… mediocre command at best, and Dustin Nosler showed what that meant for the later innings. So let's take this at face value, let's remember where the Dodgers were playing, and lets remember that every season one or two or five away games at the phone booth end in brutal heartbreak, maybe that's Brandon League serving up a game ending dinger to Guillermo Quiroz or League giving up a single to Hector Sanchez to win it or maybe that's Kenley Jansen's own struggles in AT&T in 2014, or last year. Something inexplicably dumb happens every year at the start of the season in that ballpark (Hanley Ramirez blowing out his thumb and hamstring months apart in the same stadium. Sometimes things are just inexplicable and given how the series opener went, was there any reason to believe that something dumb was not going to happen last night? I personally had zero faith in Stripling's ability to
A) preserve the no hitter after walking Angel Pagan
B) preserve the slim lead that the Dodgers had after giving up the no hitter, and this was before Ross admitted it was the right call to take him out in the first place
Oh by the way add Trevor Brown to the list of Giant backup catchers to score demoralizing hits against the Dodgers in AT&T park. I don't think I could stomach seeing a game there, ever.
However, this probably highlights a larger point
I understand the risk of injury and pitch count, but good lord the bullpen needs to step up.

— Stacie Wheeler (@organicallyrude) April 9, 2016
This is a way too early critique on the bullpen and the state of the pitchers who preserve the lead for the Dodgers, but it's impossible to forget how bad things looked for the last few months of the season last year outside of Kenley Jansen, it took a DL visit to really fix Chris Hatcher's problems, Pedro Baez didn't know how to pitch last season and uh his pitchability is still not there, Yimi Garcia has had significant issues after April of 2015, I have no idea what to make of Louis Coleman yet, Joe Blanton hasn't really instilled confidence into us.
Trading for Aroldis Chapman is not the only way to build a good bullpen, on both sides of the equation, whether you're upset that the deal didn't go through, or whether you're defending the construction of the bullpen by saying the Chapman trade made things significantly harder to build a better bullpen. There was ample opportunity to sign Darren O'Day in the offseason, trading for Andrew Miller, going after Jake McGee, maybe you go outside of the box and think of an AJ Ramos type player any of the numerous late inning options. The interest in Chapman lead me to believe that the team was not comfortable with it's bullpen going into the season, and, sorry guys but Joe Blanton and Louis Coleman don't move the needle, not for me at least.
There's always the farm system and if things get bad enough I suspect a Jose De Leon or Julio Urias might be called up, but I'm not 100% sure that is a bandaid that fixes all of the issues.