I have nothing against Austin Barnes. I like him. I don't think as highly of him as Mark does, but I still consider him a young talented player with a high ceiling. It's just not the same ceiling as others may think he has. Barnes is a 26-year old right handed hitting catcher/second baseman. He has more experience as a backstop than a second baseman, but can play either position well.
Barnes is a career .300 hitter in the minor leagues and has a .390 career OBP as well. He's hit 40 home runs and has an .828 OPS across five minor league seasons. He's a contact hitting catcher with great on base skills that can play second base and hit a few home runs. I can see why Mark likes him and I would love to see him get more playing time this season. Unfortunately Austin Barnes probably shouldn't be placed on the major league roster in 2016, and it has nothing to do with his playing abilities. So why shouldn't the Dodgers find a place for him on the active roster this spring?
There are a couple of reasons. He's blocked at the second base and catcher positions. The Dodgers already have Howie Kendrick, Chase Utley and Enrique Hernandez entrenched at the keystone. The Dodgers didn't spend 20 million dollars on Kendrick not to play him, plus Kike and Utley will get some playing time there as well.
If the Dodgers place Barnes on the roster than he'll probably be sitting on the bench a lot. He needs to be playing every day. Sitting on the bench won't do him any good.  He won't get enough playing time to stay sharp. You know what they say, you have to play in order to play.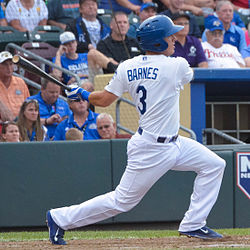 The big reason he shouldn't be placed on the major league roster is the lack of catcher depth. We know that the Dodger's catching depth throughout the upper levels of the organization is razor thin. Behind Barnes there isn't anybody else of reliable caliber that can fill in if there is an emergency. If you play Barnes at second base regularly then you don't have that third string catcher available anymore.
If something were to happen to A.J. Ellis or Yasmani Grandal then who would fill in behind the plate? Since Barnes is blocked at second base anyways by several other players, it would be better to continue to primarily use him as a catcher. Otherwise the Dodgers would have to go out and acquire another catcher, and there are limited options available. It's best not to stunt his development at the position the Dodgers need him most at.
The Dodgers have already told Barnes last season to focus on catching. The brain trust has also states that they are not interested in picking up a journeyman catcher as insurance. Right now Barnes is not only the future, but the insurance as well. Barnes comes highly rated. Truebluela's David Hood rated him as the Dodger's number 11 prospect in their farm system.
We saw a glimpse of Barnes last September when he was called up after rosters expanded. Barnes batted .207 (6 for 29) in 37 plate appearances. In 20 games he had two extras base hits and six walks while playing 11 games behind the plate. Barnes is much better served as a catcher for the reasons listed above.
This way you can stash him down at Oklahoma City to start the season. He can get regular playing time and stay sharp, and you don't rob yourself of your catching depth. If anyone gets hurt Barnes is just a plane ride away, and we all know somebody will get hurt at some point. Austin Barnes' time will come soon. However it's not right now, nor should it be.
(photo credits) Zimbio.com, dodgersphotog.mlblogs.com