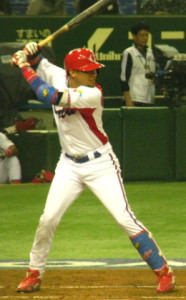 This is more exciting than anything that happened in last night's game: News broke this morning that Yulieski Gourriel, 31, and his brother Lourdes Gourriel Jr, 22, have defected from Cuba in order to pursue gigs on major league teams.
This is incredibly exciting given that they're Cuban infielders projected to make impacts on a major league team.
Yuliesky is known in international circles as the Cuban Babe Ruth, he owns the most aesthetically pleasing stat line in sports: the .300/.400/.500 triple slash line, slashing .333/.414/.577 in 15 seasons between the Cuban National Series and the Japan Central League, he hit .535/.604/1.012 in 106 plate appearances last season. This is a stat line that I imagine Bryce Harper could rival if he received plate appearances in the Cal League. I will write more in depth about Lourdes Jr because he is the more interesting prospect for the Dodgers, but we should talk about Gourriel because he is big league ready right now according to Ben Badler
The best non MLB-ready player. Best overall is Yulieski. Can step into the middle of a lineup immediately. https://t.co/IdWuKMKoLb

— Ben Badler (@BenBadler) February 8, 2016
The Dodgers fetishize depth like no other team with their level of resources, so of course they are going to be in on a player with his hitting ability, Yulieski might prove to be a good option to play 3rd base when Justin Turner's knees act up (they will) and be an option at second base, first base, and left field.
This is an important position to have and while you don't want to take away plate appearances from Enrique Hernandez, I suspect Hernandez will have a lot of work platooning at any position save for catcher when the Dodgers face a LHP, so a high end option at 3rd base will help a ton at fielding a competitive lineup as often as possible.
I do want Yuliesky because the kind of player who "can step into the middle of a lineup immediately" is such a rare commodity in today's game. And while this isn't a big concern, because Justin Turner does not need to carry the team, I do worry about his ability to keep up the all star level of play, especially coming off of offseason knee surgery.
So yes, signing him will be preferable, especially since Turner is set to become a free agent after the 2017 season, Gourriel can be a long term option despite his age. However Yulieski just cannot be counted on to contribute beyond this season. This goes beyond the recent "Cuban middle infield" misses that the Dodgers have experienced lately, it's about Gourriel's time of defection.
Hector Olivera defected in September of 2014, waited for the US government to clear him to play in MLB games and the Dodgers officially announced the signing in May (!) This is a 7th month process that played out because of health concerns, issues of establishing residency in another country, and waiting for the government to clear him.
This was no different for Alex Guerrero who defected in January of 2013 and didn't sign officially until October of 2013.
Yulieski's timeline in this case would be a September when he gets an official major league deal, maybe a couple months earlier if he rushes it because of his age. However we haven't even covered the fact that he might or might not need minor league seasoning to get back in baseball shape, so his situation is muddled at this point.
The process is not an easy one, and in Olivera's case, injuries made it to where he never played a game in a Dodger uniform, Alex Guerrero defected, was deemed to be close to major league ready and didn't get consistent playing time until this past year (until he was just bad). These things are always more complicated than they seem, Badler acknowledges this:
No chance. Given MLB's pace, might not see Gurriels playing in games until 2017. https://t.co/zhal8mnK06

— Ben Badler (@BenBadler) February 8, 2016
Over the next few months, Yulieski will be hyped in the media and deservedly so, I cannot wait to watch him crush baseballs in the United States, it's something i've wanted to see for a long time, however there's almost no chance he makes a 2016 impact on a big league team this season, temper the expectations in the most immediate sense.