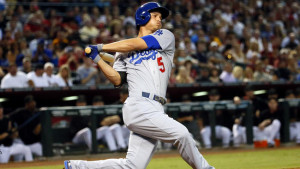 I don't think there are words to describe what happened early this morning for baseball. Being a person of Cuban descent, the impact that Jose Fernandez had as a baseball player on me cannot be described. I have never experienced a communal experience through my roots outside of baseball, and Jose Fernandez/Yasiel Puig finishing 1/2 in the 2013 rookie of the year voting.
There was so much promise there, the comparisons were rampant. I was admittedly jealous and worried that Jose would eclipse Clayton Kershaw's greatness and then adversity took over.
Puig's problems were certainly more self induced than Fernandez's. His were, by all accounts a result of not preparing, not adjusting. His floor was still that of an average outfielder, and that was valuable considering the level of injuries the Dodgers sustained, but never good enough.
Jose lived up to the hype, but cruel injuries and a freak accident derailed his career. Had he stayed healthy, he would have been one of the best pitchers who ever lived, this generation's answer to Roger Clemens. I was terrified watching him pitch, fearing something could go wrong cause of the intensity, Clayton Kershaw is the same way, but Clayton never threw 98, Clayton is the only person who's slider might not have been as good as Jose's. Clayton's delivery is a controlled effort, Jose simply aimed and with every ounce of effort in his body, violently unleashed towards home plate.
Realistically, the worst thing we can do is abstract him. Atomize him to just strikeout and ERA numbers on a screen. There is no emotion in doing this and that is an incredible disservice the most emotional player I have ever seen, all of which was overtly positive.
I don't have any words that can help anybody affected directly, but I do know that he will be missed and that's the best I can do in this situation.
All of this overshadowed Vin Scully's final game in Dodger stadium.
I don't think Vin cares very much because it was never ever about him, the Dodgers began to tip their caps
Thank you, #VIN. https://t.co/rDC6beRDxO pic.twitter.com/hfwdnewOJX

— Cut4 (@Cut4) September 25, 2016
And Vin nearly objected. The man is the closest thing to actually being humble in a genuinely believable manner.
I'm sure he hates the idea of a retirement tour and he gave us the best possible distraction to us today, by calling a beautiful game in his exit from Dodger stadium.
As far as the game went, the Dodgers generally hit Tyler Anderson (a quality lefty) pretty hard, the bottom of the second saw Adrian Gonzalez beat the shift, singling to left and Carlos Ruiz followed by doubling to left, sending Gonzalez to third.
The bottom of the order couldn't figure Anderson out so they grounded out, struck out, and grounded out in order, but cracked Anderson out in the bottom of the third as Howie Kendrick singled to left, and Justin Turner doubled to left sending Howie to third.
After a Corey Seager groundout, Yasiel Puig collected an RBI with a sac-fly to center, as he brought Kendrick home.
Unfortunately this would only halve the lead as Brandon McCarthy had mixed results in the first few innings.
He was cruising through 2 innings, striking out Charlie Blackmon and Carlos Gonzalez in the 1st, David Dahl and Gerardo Parra in the 2nd. Colorado got something cooking in the 3rd as Cristhian Adames singled to left, and somebody who's name is Dustin Garneau doubled to left, scoring Adames. After a Blackmon sac-fly, Garneau scored.
Ultimately though he found his rhythm as he set down the Dodgers mostly in order until the 7th inning in which the Dodgers mounted a rally.
Howie Kendrick popped out to second, which seems impossible. Justin Turner followed with a single to left field with 2 strikes. And after Corey Seager worked the count to 3 balls and hit a laser down the right field line. Carlos Gonzalez being shifted towards CF did not help matters as Turner sprinted home and Seager made it to third without a slide.
The RISP woes would continue as the Rockies brought Chris Rusin in to strike Yasiel Puig out with one out, and got Adrian Gonzalez to ground out to first to end the threat. At this point the Dodgers were 0-10 with runners in scoring position.
But what really allowed the team to get into this position is the bullpen, which was incredible, they shut the Rockies offense down until the fateful 9th inning that RUINED VIN SCULLY DAY.
Kenley Jansen was brought in to preserve the lead going into the bottom of the 9th, and didn't have his normal command. Carlos Gonzalez popped out to shortstop, but he was fortunate not to walk Nolan Arenado as Nolan struck out on a bad ball up.
David Dahl promptly smashed a huge dong out to Right Field that is caught short of the warning track on any other day due to the heat.
WHAT HAPPENED NEXT MIGHT SHOCK YOU
Adam Ottavino came in and attempted to shut down this win and delay clinching just a bit longer, he struck out Andrew Toles looking and Justin Turner looking
But Corey Seager stopped time by hitting a majestic dinger to right field, she is indeed… gone.
Seager ran away with the rookie of the year award this season and should finish in the top 3 of MVP voting, he has been an amazing revelation, and has solidified himself as a cornerstone for years to come.
Joe Blanton gritted out a top of the 10th inning  to set up a possible game winning home run in the bottom of the 10th.
Well. It Came.
After Chris Taylor lined out to center, Enrique Hernandez struck out swinging, which set up season hero Charlie Culberson who smashed a division clinching home run to deep center field.
Player of the game: @cculberson23, with the #walkoff homer! ? pic.twitter.com/XZ1KZxeDYF

— Los Angeles Dodgers (@Dodgers) September 25, 2016
It capped off an emotional, heart wrenching, feel good, feel awful, division clinching day. There will be many incredible announcers, there will be many emotional goodbyes, but none will come close to what happened this afternoon.
Scully graced us with his rendition of "Wing Beneath My Wings" for the entire stadium to hear, it was a perfect goodbye for the perfect announcer.
So many feelings, so difficult to put into words, the Dodgers are division champions, this year feels special, y'all.
You can watch the Culberson home run here.