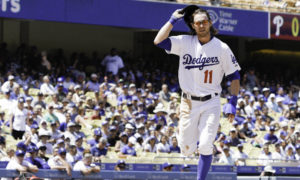 The Dodgers drubbed the Rockies Saturday night, lowering their magic number to 1, almost ensuring that their plight to 90 wins will be successful, and with that comes a 4th straight division title.
What. A. Night.
Scully's penultimate game at Dodger stadium was a success for the team as they beat an overmatched Rockies squad 14-1, they didn't clinch only because the Giants mounted an extra innings comeback against the Padres on the road, but nonetheless the offense exploded tonight against Chad Bettis.
The scoring got underway in the 2nd inning with Yasmani Grandal hitting a single to right field, Josh Reddick (more on him later) walked, and after a Howie Kendrick single to juice the bases, Joc Pederson singled to center plating 2 runs. Later that inning, Corey Seager drove in somehow only his 70th RBI of the season, with a fielder's choice to first, Chase Utley being out at second. Justin Turner followed by driving in Pederson.
More damage came in the bottom of the 4th with the Dodgers tacking on 2 runs to the already insurmountable 6-0 lead.
It was of course insurmountable because of Clayton Kershaw. The Dodger's left hander, in his last Dodger stadium start called by Vin Scully. I hope you guys got that on tape because I am going to have to replay this game for a long, long time. Anyways he was his near perfect self, not allowing a baserunner well into the 3rd inning, finishing with 7 innings pitched, allowing 3 hits, no walks, and 6 strikeouts. His numbers on the year? A 1.65 ERA and a 1.66 FIP. It is amazing that a pitcher who hasn't won the Cy Young in consecutive years (I can't imagine he will win this year ) is head and shoulders above everybody else.
He is amazing.
Oh and speaking of Clayton Kershaw, he drove home Josh Reddick and Joc Pederson to raise the scoring margin to 7-0. (halfway home).
The seventh inning belonged to Josh Reddick.
After Adrian Gonzalez singled in Joc Pederson and Chase Utley, Reddick blew up.
The beleaguered outfielder raised his season OPS 20 points in this game alone, as he hit a grand slam home run in the 7th inning off of Eddie Butler to drive home Justin Turner, Adrian Gonzalez and Yasmani Grandal.