Buffalo-born Orel Hershiser is one of the most decorated LA Dodgers pitchers of all time. He enjoyed a glittering 18-year career at the top of Major League Baseball (MLB), spending 12 of those years with the Dodgers. Hershiser was by no means one of the scariest pitchers for batters to face, but he was certainly one of the cleverest. Rather than opting for power, Orel would vary his deliveries with sinkers, cutters, curveballs and sliders to bamboozle his opponents; and bamboozle them he certainly did.
Hershiser finished his career with an impressive 2,014 strikeouts, winning the 1988 National League Cy Young award, World Series MVP, and was a three-time participant in the MLB All-Star Game featuring the best pitchers selected by the coaches of all MLB teams. "Bulldog", as Hershiser was lovingly known by former Dodgers coach, Tommy Lasorda, played his final MLB game in June 2000 – fittingly for the Dodgers. He brought the curtain down on a career spanning three separate decades. A lot of time has passed since then and although he is still revered by us today, it is probably time to stop getting starry-eyed about the heady days of our 1988 World Series triumph. So other than being a central part of the Dodger's television broadcasting team, what has Hershiser been up to since his retirement over 18 years ago? A central part of baseball betting can be found here darmowe gry owocowe
We'll start with the sad news first. Orel and his first wife, Jamie Byars opted to divorce in 2005. Dodgers fans were also bitterly disappointed in 2011-12 when Hershiser was part of a consortium led by former team-mate, Steve Garvey, that attempted to buy the Dodgers. Unfortunately, Hershiser and Garvey's proposals did not get beyond the first round of the bidding. On a more positive note, Hershiser remarried in 2010 to Dana Deaver. Hershiser's son, Jordan, played college baseball at the University of Southern California, following in his father's footsteps as a pitcher. It was quite poetic to see Jordan eventually drafted by the Dodgers in the 2012 MLB draft. Unfortunately, injuries have put paid to Jordan cementing a place with the Dodgers and, indeed, elsewhere in the MLB.
However, his father eventually found a new calling in life after baseball in the form of professional poker. After hanging up his mitt, Orel moved to Summerlin, Nevada, where he became close pals with a leading poker coach. After some lessons, Hershiser eventually became a well-known face in Summerlin's Red Rock poker room, often playing $2-$5 No Limit Hold'em cash games. Hershiser then went on to shock the poker world by participating and prevailing in the 2008 NBC National Heads-Up Poker Championship. He outplayed household poker names such as Allen Cunningham and Ted Forrest to reach the quarter-finals, before being dumped out by Andy Bloch.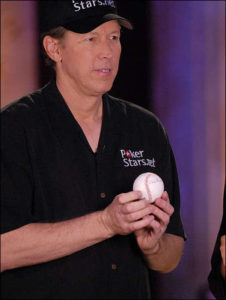 Photo by flipchip // CC BY-SA 3.0
Following this unprecedented success, Hershiser was named as part of the 'Friends of PokerStars', which was a collective of poker enthusiast celebrities chosen to help fly the flag of PokerStars' online poker around the world. Today, that collective is called Team PokerStars which is a legendary line-up including icons like Daniel Negreanu and Barry Greenstein. Hershiser then participated in a string of other professional poker tournaments, most notably the 2008 World Series of Poker and the 2009 PokerStars Caribbean Adventure. He would later finish ninth in the 2008 World Championship of Online Poker Event 5, taking home almost $55,000 in prize money. During all of the major tournaments Hershiser participated in, he would donate a signed baseball to the player that eliminate him, offering a wonderful keepsake of their time at the table together.
More recently, Hershiser's poker appearances have been few and far between. In 2016 and 2017, Orel was seen entering a handful of No Limit Hold'em tournaments at Caesars Palace and The Venetian, as well as the brand-new Aria Resort & Casino. In his last three tournaments, Hershiser finished first and second in two of them, proving that he's still got what it takes to mix it with the best at the poker tables. Orel now lives in Vegas, along with his second wife, Dana, and her two children. Life has been very good for Hershiser; he has always made the best of the tools at his disposal. Here's to you, Bulldog!